SFC Update
201

3-

14 SFC Members

who

would like to access the SFC section for translations,
Please send a message to >>Admin<<
(

I

nclude : Full Name, SFC ID, SFC Username, Email)
Thank you!

201

2-

13 SFC Members

The DVD and Story Book translations are available on request, please contact Stina for info. Thanks!
------------------------------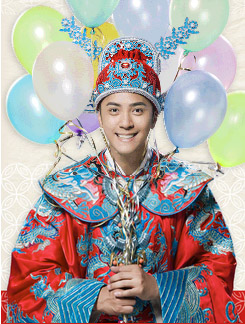 ------------------------------

------------------------------

1st Japanese Album
The SHOW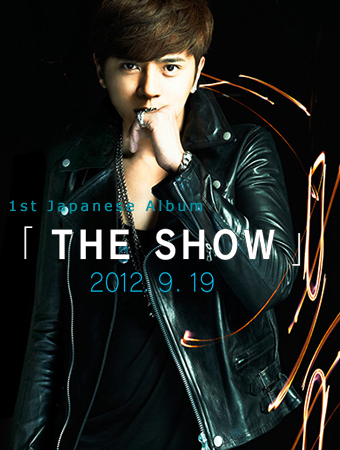 -------------------------------

Show Lo's Hong Kong Concert Successfully Comes to An End! 20,000 Pan-Asian Fans Pack in at Hong Kong to Enjoy the Show!
02/26/2008
Show Lo had his concert in at Hong Kong's Pop TV Arena. It was his first time conquering Hong Kong, and his first challenge with a large, outdoors venue. Even when the first time was all strong winds and pouring rain, Show, who is the most cherishing of his fans, still gave it his all and held his concert. Standing in the rain was tens of thousands of fans that hadn't left at all, coming from all different areas in Asia including fans from provinces in Mainland China, also Japan, Singapore, Taiwan, Malaysia….etc. He had twisted his ankle the first night, and after a night's ice pack treatment, it started to swell a little on the second night. Show clenched his teeth and gave it his all on the second night of good weather! The fans in the audience also had perfect interactions with Show, which carried him on a whim singing "Mei Tian Ai Ni Duo Yi Xie [Love You More Each Day]" to dedicate to his Hong Kong fans. He also, for the first time, sang a little part of the "Peng You Ge [Friend Song]," which is from the TV drama series, "Corner With Love" when Barbie "Da S" Hsu was feeling down, Show would sing the song to her, which made the fans in Hong Kong very touched!
In the concert, there was a digital slot machine that drew a lucky fan, it was a 19 year-old girl from Hong Kong. Show held her hand and serenaded "Ji Fen," the fan very happily sang along, and finally got so happy that she cried. Show saw this and immediately took her in his arms, hugging her as he continued singing for another minute, which invoked screaming from the fans. The entire audience was moved by Show's gentleness! At the celebratory party, Show was asked about the reactions from the lucky fans at his other concerts, Show smiled and said, "I remember it was a guy that came on stage in Singapore. I still held his hand, even though I kept laughing, but it was like brotherly love!" In fact, before that part of the performance, Show's fan club had set a rule : "You can hug, you can kiss, but you can't kneel down (because kneeling down looks like you're proposing)." Show said that his fans are actually on very good terms with each other, no one is jealous of anyone else, he feels that their pact is very cute, so of course he'd follow through!
This time, Show pulled a new trick at the concert. When Show was singing "Twinkle," he asked everyone to get up and dance the "Kira Kira" moves. The Lunar New Year had just passed, so Show first delivered his best wishes, and then suddenly very jokingly said, "Do this movement with me and you'll have good luck for a year! If not, then you'll get bad luck for a year!" which had the audience roaring with laughter. However, they still very cooperatively danced the 10,000 membered "Kira Kira" dance, which made Show very pleased, and dashingly said, "This trick really works!"
At the celebratory party, the Hong Kong organizational party's Paco and EMI's general manager where there with Show to celebrate a successful finish of his concerts. This time, Paco had experienced the fervor and support Show's fans had for him, and then expressed that he'd like to invite Show to return in July to hold a concert in Guangzhou, and also disclosed that he's filming movie love story in May and would like to invite Show to be it's male lead. But this is still under lots of planning, and will slowly be discussed. Having acted in "Expect a Miracle" and "Detective 2 and a half," Show actually has a very large interest in hitting the big screens. In fact, there have been lots of different movies that have been knocking on his door, but it's in the hands of his management company to choose a good role and script. When asked which type of movies he'd like to film, and which female actress he'd like to work with, Show said, "I want to film a love story. But I have no choice of female lead, because he'd have to see what the girl's character and personality is in the film to decide!" But Show said that he's doesn't want to film horror ghost films, reasons simple, "Because I'm scared!" Show very blatantly said, "Just thinking about the eerie atmosphere of the filming venue creeps me out." Seeing how that is, watching Show in a horror ghost film is a long ways from now!
[You must be registered and logged in to see this link.]
[You must be registered and logged in to see this link.]
Source: EMI Music
Translated by o_ost1nao_o
Spoiler:

[2008/02/26 EMI] 羅志祥香港演唱會大成功!兩萬名亞洲各地歌迷齊聚香港共襄盛舉!

[You must be registered and logged in to see this link.]

羅志祥在香港中天地開唱,首度親征香江,又是第一次挑戰戶外大型場地,即使第一天大風大雨又寒流來襲,最最寶貝歌迷的小豬,依然卯足了勁賣力開唱,站在風 雨中熱情完全有增無減的上萬名歌迷們,來自亞洲各地包括內地各省的歌迷,還有日本、新加坡、台灣、馬來西亞….等等,頭場演出因嚇與小豬不慎扭傷腳踝,經 過連夜的冰敷,到了第二場當晚,腳踝雖然已經微微腫起,咬著牙奮力一搏的小豬,在第二天放晴的夜晚上精彩的演出!而台下歌迷與小豬之間完美無間的互動,讓 小豬心血來潮,特別清唱了「每天愛你多一些」獻給香港的歌迷們,還頭一次在演唱會中清唱了一小段「朋友歌」,這是電視劇「愛轉角」中,每當大S心情不好時 小豬就會為她唱的一首歌,讓香港的歌迷感動莫名!

演唱會中拉霸遊戲選中的幸運歌迷,是一位19歲的香港少女,小豬拉牽她的手深情的唱著「幾分」,女歌迷開心的跟著吟唱,終於抵擋不住小豬的溫柔情歌攻勢, 忍不住喜極而泣,小豬見狀立刻將她擁入懷中,抱著她繼續的唱長達一分多鐘,讓台下的歌迷們尖叫連連,全場都被小豬的溫柔所感動!慶功宴上小豬被問及在各地 演唱會中,被幸運抽上台來的不同歌迷反應,小豬微笑說:「記得新加坡那場是個男歌迷上台來,我也是有牽他的手,雖然全場都笑場,但是我覺得這式像兄弟之間 的感情吧!」其實對於這段演出,小豬的歌迷會曾經有聯署:「抱可以,親也可以,但是不可以跪下喔!(因為跪下像是求婚)」小豬說其實他的歌迷們私底下大家 感情都很好,也不會忌妒其他人,覺得她們這樣的聯署非常可愛,當然沒有問題一律照辦!

這次演唱會中小豬有新招,當小豬要演唱「Twinkle」的時候,總是會要求大家一起學跳「kira kira舞」的動作,這回在香港剛好剛過完年,小豬先是吉祥畫送上,接下來忽然用開玩笑的方式說:「跟我一起做就旺一年!如果你不做就會衰一年!」讓大家 哄堂大笑後,乖乖的跟著小豬一起萬人大跳「kira kira舞」,讓小豬超級開心,還耍帥的說:「這招真是超有效的!」

慶功宴上香港主辦單位的PACO,與EMI總經理與小豬一起開香檳慶祝演唱會順利成功,PACO感受到這次歌迷對小豬的熱情與支持,表示希望能邀請小豬在 七月份到廣州開唱,並且透露希望能在五月份開拍的愛情電影中,邀請小豬擔綱男主角,但是目前有許多的合作細節必須要慢慢的商討;演過『蘋果咬一口』及『神 探兩個半』的小豬,其實對於大螢幕有濃厚的意願,其實已經很多各類的電影找上門,現在都交由經紀公司慢慢的找好的角色劇本,被問到最想演哪類型的電影並想 跟哪位女星合作?小豬說:「最想演愛情文藝片,但是女主角完全沒有屬意誰,因為這要看戲中女主角的個性及角色才能決定的!」不過小豬說目前不敢拍鬼片,原 因很簡單,『因為我會怕!』小豬爽快的說:『想到要營造那種陰森森的場景就超恐怖的。』看來要等到小豬演鬼片還真是有得等了!
Last edited by o_ost1nao_o on Tue Feb 26, 2008 8:41 pm; edited 2 times in total
whoaaaa.. hitting the big screens too!

Go for it Xiao Zhu! =D

Thanks for posting!

..|dreeam|..

Super Fan





Number of posts

: 231


Location

: Toronto, Canada




---
Permissions in this forum:
You
cannot
reply to topics in this forum