SFC Update
201

3-

14 SFC Members

who

would like to access the SFC section for translations,
Please send a message to >>Admin<<
(

I

nclude : Full Name, SFC ID, SFC Username, Email)
Thank you!

201

2-

13 SFC Members

The DVD and Story Book translations are available on request, please contact Stina for info. Thanks!
------------------------------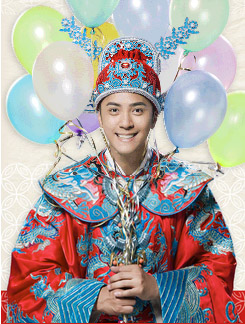 ------------------------------

------------------------------

1st Japanese Album
The SHOW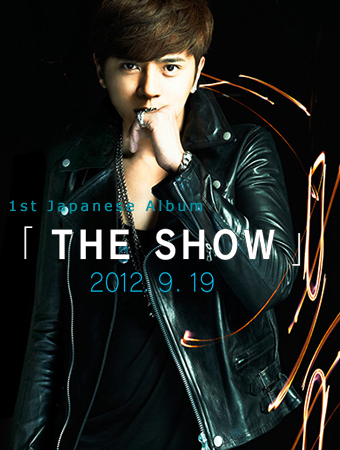 -------------------------------

*Please credit when reposting/reusing thanks!*
Show Lo – One Husband, One Thousand Wives : Hong Kong Wedding!
09/14/2008
[You must be registered and logged in to see this image.]
[You must be registered and logged in to see this link.]
Show "Xiao Zhu [Little Pig]" Lo reserved a large conference hall to choose his wives! Yesterday, Show especially made a trip to Hong Kong to hold his "Centennial Happiness Wedding Party" with his fans in Hong Kong. The venue was decked out with hundreds of heart-shaped balloons, in a pink scheme, and successfully organized the wedding. Show was very into it and called all the fans there his "wife," and then willingly hugged all the thousands of wives, the atmosphere was filled with fortune and happiness.
Actually, Show holds huge annual events for his fan club, using this as a way to repay his fans, for their support. Earlier, Show had already "married" his fans in Taiwan, and this time he brought his "Centennial wedding" to Hong Kong. The "minister" was Show's assistant and cousin, Lo Ming Sung.
Becoming Sworn Brothers with Male Fans
The event seemed like a real wedding, the place was just filled with happiness and joy. Almost a thousand "brides" and Show, the "husband," shouted out together, "Let's get married!" A portion of the 'brides' had brought their own beautiful wedding gowns, while the event also thoughtfully lent wedding gowns to the fans as well.
At 11 o'clock in the morning yesterday, Show appeared in a tux and said, "You all are going to be my wives! I'll hug you wherever you'd like, so grasp this opportunity. If there are guys, we'll be sworn brothers then!" Show very voluntarily hugged the "brides," and even passionately looked into their eyes. He said to his fans, "When we hug, I can feel your heart beats racing!"
Loves Children
Fan moms with their daughters also attended the event. The youngest one there was a little girl merely 2 years of age. When she was held by Show, she was so nervous, but her mom was there to support her. In the end Show and the girl kissed mouth-to-mouth and everyone just screamed!
Afterwards, Show expressed, "I really love children, but that shouldn't count as a first kiss because I'm old, I feel like it's an elder person giving a little girl a goodbye kiss. They're like angels to me, I hope this will be an unforgettable memory! The next stop is Shanghai, then Malaysia and other places!" He then promoted his fan club and said, "Every month, I will choose 10 lucky fans, and personally call them!" Also, it turns out that some fans had already began lining up at 6 in the morning to be "first-in-line," there were also male fans that rushed over from Macau. Show's charisma is unstoppable!
Source: Oriental Daily
Translated by o_ost1nao_o @
[You must be registered and logged in to see this link.]
Spoiler:

【14/09/2008 東方日報】 小豬一夫千妻任攬啜

來源:http://orientaldaily.on.cc/ent/ent_a04cnt.html

羅 志 祥 ( 小 豬 ) 包 起 演 講 廳 選 妃 ! 昨 日 小 豬 專 程 來 港 與 歌 迷 舉 行 「 世 紀 幸 福 巡 禮 派對 」 , 大 會 布 置 了 數 百 個 心 形 氣 球 , 配 上 粉 紅 色 的 主 題 , 成 功 將 婚 禮 會 場 搬 入 九 展。 小 豬 十 分 識 做 , 叫 全 場 fans 做 「 老 婆 仔 」 , 又 主 動 與 近 千 位 新 娘 抱 抱 , 現 場 氣氛 幸 福 滿 瀉 。

其 實 小 豬 每 年 都 會 為 歌 迷 會 舉 辦 大 型 活 動 , 藉 此 報 答 粉 絲 們 的 支 持 。 早 前 , 小 豬 與台 灣 歌 迷 「 結 婚 」 後 , 這 次 移 師 香 港 舉 行 「 世 紀 婚 禮 」 , 並 安 排 小 豬 的 助 理 兼 堂 弟羅 銘 松 做 「 證 婚 人 」 。

與 男 fans 結 拜
現 場 所 見 猶 如 真 正 的 婚 禮 , 到 處 洋 溢 幸 福 的 氣 氛 , 近 千 名 「 準 新 娘 」 與 「 老 公 仔 」小 豬 齊 呼 : 「 我 們 結 婚 吧 ! 」 部 分 「 新 娘 」 更 自 備 靚 靚 婚 紗 , 大 會 亦 非 常 體 貼 , 為粉 絲 準 備 婚 紗 借 用 服 務 。

昨 日 早 上 十 一 時 , 小 豬 穿 上 禮 服 現 身 , 他 謂 : 「 以 後 就 是 我 老 婆 仔 ! 想 要 抱 哪 都可 以 , 要 好 好 把 握 。 如 果 是 男 生 , 我 們 就 結 拜 吧 ! 」 小 豬 主 動 與 「 新 娘 子 」 抱 抱 ,又 不 時 以 深 情 眼 神 對 望 。 他 對 fans 說 : 「 擁 抱 的 時 候 , 我 會 感 到 你 們 的 心 跳 加 速哦 ! 」

喜 歡 小 孩 子
有 媽 媽 級 粉 絲 與 愛 女 同 行 , 而 全 場 年 紀 最 小 、 只 得 兩 歲 半 的 小 女 孩 被 小 豬 抱 起 時 ,竟 然 緊 張 到 「 硬 晒 」 , 最 後 要 媽 媽 出 聲 才 叫 得 動 她 , 最 後 小 豬 與 小 女 孩 親 嘴 , 全場 起 哄 !

小 豬 事 後 表 示 : 「 我 很 喜 歡 小 孩 子 , 但 這 應 該 不 算 初 吻 , 因 為 我 年 紀 大 , 我 覺 得 是長 輩 跟 小 女 生 的 goodbye kiss 。 我 覺 得 他 們 就 像 天 使 一 般 , 希 望 她 們 有 美 好 的 回憶 ! 下 一 站 將 會 到 上 海 、 馬 來 西 亞 等 地 『 結 婚 』 啦 ! 」 他 更 為 歌 迷 會 大 賣 廣 告 : 「每 個 月 我 會 選 十 個 幸 運 的 fans , 親 自 打 電 話 給 她 們 ! 」 另 外 , 原 來 有 fans 在 早 上六 時 半 已 抵 會 場 「 排 頭 位 」 , 亦 有 男 fans 從 澳 門 趕 過 來 , 小 豬 果 然 魅 力 沒 法 擋 !

文 : 盧 坤 穎 攝 : 馬 永 堅
__________________________________________
[You must be registered and logged in to see this image.]
wow! it really exciting...i wanna marry SHOW also..wwwwwwwwaaaaaaaaa....

SHOW, please go here also in Manila Philippines. You have a lot of fans here.
come msia again. i've missed it
Hu~~!!! Showww~~!!!
I'm going to die.........

Jazz

Fan





Number of posts

: 141


Age

: 25


Location

: Indonesia



I call those people LUCKY PEOPLE!!

And our

is always

S-H-U-A-I!

chinesegiirl93

Staff Security





Number of posts

: 738



come on, how many girls can say, "I lost my first kiss to Show Luo"..d*mn lucky young girls lol

littlecutekitty

Fan Family Member





Number of posts

: 324


Age

: 29


Location

: Canada



the little girl was so lucky.!haha..i wish i was her.!

and those fans are also lucky getting married to our SHOW.!haha..

i hope he can go to the Philippines..i'll sure go wherever he will go.!

---
Permissions in this forum:
You
cannot
reply to topics in this forum