SFC Update
201

3-

14 SFC Members

who

would like to access the SFC section for translations,
Please send a message to >>Admin<<
(

I

nclude : Full Name, SFC ID, SFC Username, Email)
Thank you!

201

2-

13 SFC Members

The DVD and Story Book translations are available on request, please contact Stina for info. Thanks!
------------------------------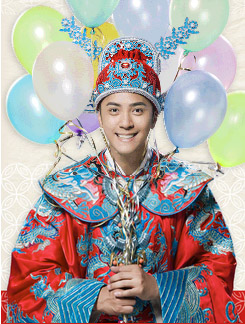 ------------------------------

------------------------------

1st Japanese Album
The SHOW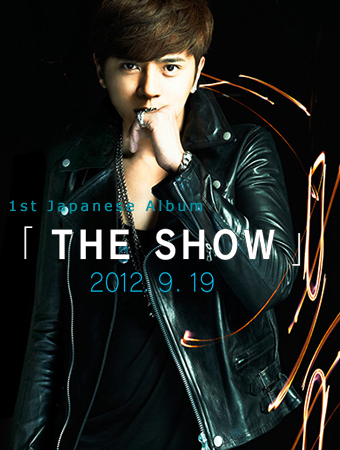 -------------------------------

Show Lo Forces On To Chun Wu, "Kissing" Pictures Exposed
Show "Xiao Zhu [Little Pig] Lo" revealed his girlfriend from within the entertainment circle, shocking many of his fans!

Wanting everyone to bless them, fans laugh.
Tonight Show will be holding his concert in Hong Kong. Days ago, on his "I Love Super" blog, he had written and entry that read "My Girlfriend Exposed!" and posted pictures. Many of his fans were shocked and hurried to click in to read.
They never thought that his "Girlfriend from within the circle" was referring to the handsome Chun Wu, who is collaborating with Show in "Hot Shot."
See how the two were "lovey-dovey," and pursing their lips to kiss each other, the fans could help but laugh and say, "Hahaha, turning gay? But you guys seem to get along really well!"
Show was making stuff up, not only saying that Chun was his girlfriend, but also wrote, "He said that he only wanted to be my very important girl, out of the limelight, that quietly supports me. Next time you see us on the streets hand in hand, remember to wish us well!"
And even said that the gift that he'd give to Chun for Valentine's Day is gym equipment, "so he'd have an even better physique!"
Upon seeing how Show and Chun are so close, Show's fans used his album name to poke fun of him saying, "Show's perverted nature really is 'omnipresent!' "
Chun was randomly claimed as Show's "girlfriend," and his fans gave him the pictures. Then during filming, he purposely said to Show, "I heard that I'm your girlfriend!" Show laughed dryly.
Concert in Hong Kong Tonight, Doctor on Standby
Tonight Show be holding his first concert in Hong Kong. A few days ago during the filming of "Hot Shot," there were 2 raining scenes, but the director reconsidered seeing how Show was going to hold his concerts, so especially withdrew the scenes, afraid that he'd catch a cold. This made Show very touched.
It's been unbearably cold for a while now, but Show has to wear a basketball jersey to film. Everyday after filming, he'd rush home, turn on the heater, and take a hot bath, because he's afraid it might affect his two concerts, tonight and tomorrow night. Besides paying visits to Chinese and Western practices, his manager also appointed a local doctor from Hong Kong to release blood as treatment in case he loses his voice or becomes hoarse.
Source: Liberty Times
Translated by o_ost1nao_o
[You must be registered and logged in to see this link.]
Spoiler:

[2008/2/23自由時報]小豬硬上吳尊 噘嘴索吻照曝光

記者陳慧玲/台北報導

「小豬」羅志祥自爆圈內女友曝光,嚇壞不少歌迷!

要大家祝福 歌迷笑他色

今晚在香港開唱的小豬,日前在「我愛大明星」網站部落格寫下標題「我的女友曝光啦!」

還貼上照片,不少歌迷嚇一大跳,搶進點閱,

沒想到他指的「圈內女友」竟是和他合拍「籃球火」的大帥哥吳尊;

眼看2人合照搞曖昧,互相嘟嘴索吻,歌迷忍不住笑說︰「哈哈哈,大搞gay喔,不過你們的感情好像很好!」

小豬瞎扯,不但說吳尊是他女友,還寫道︰「他只想當幕後默默支持我的偉大女性。下次看到我們手牽手逛街,要記得祝福我們喔!」

甚至提到最想送給吳尊的情人節禮物就是健身器材,「讓他身材變更好!」

見小豬對吳尊這般親密,歌迷故意用他專輯名稱糗他︰「小豬好色本性真是『舞所不在』!」

吳尊莫名其妙被小豬封為「女友」,歌迷紛紛轉貼給他看,拍戲時他故意對小豬說︰「聽說我是你的女朋友喔!」

小豬只好尷尬地笑。

今晚香港開唱 醫生待命

今晚小豬首度在香港開唱,日前拍攝「籃球火」時,原有2場淋雨戲,但導演考慮他要辦演唱會,特別為他刪戲,怕他淋雨感冒,讓小豬很感動。

前陣子冷到受不了,小豬拍戲卻得穿背心球衣,每天下戲回家趕緊開暖氣、泡熱水澡,

就怕影響今明2晚的演唱會,除了中西醫都看,經紀人還幫他預約香港醫生,萬一唱到失聲沙啞,將請醫生幫他做聲帶放血處理。

新聞來源:

[You must be registered and logged in to see this link.]
lol. Wish show good luck at his concert in HK

<3

chinesegiirl93

Staff Security





Number of posts

: 738





Similar topics
---
Permissions in this forum:
You
cannot
reply to topics in this forum