SFC Update
201

3-

14 SFC Members

who

would like to access the SFC section for translations,
Please send a message to >>Admin<<
(

I

nclude : Full Name, SFC ID, SFC Username, Email)
Thank you!

201

2-

13 SFC Members

The DVD and Story Book translations are available on request, please contact Stina for info. Thanks!
------------------------------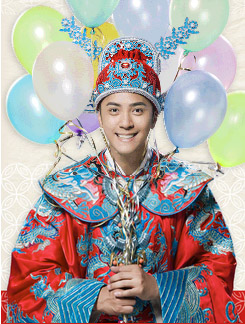 ------------------------------

------------------------------

1st Japanese Album
The SHOW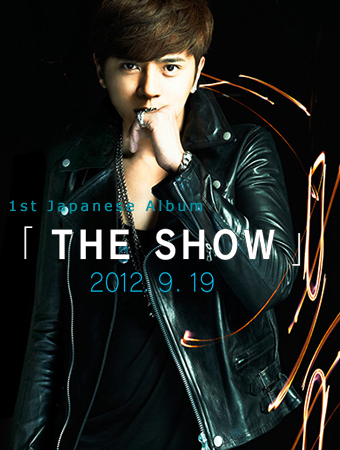 -------------------------------

"Kang Xi" Life Show Shanghai Concert - Celebrity Dance Battle
[
Original Title: Grateful Heart - Shanghai Concert" To Be Held Next Month, Barbie "Da S" Hsu Possibly Attending
]
02/20/2008
The "Grateful Heart Shanghai Concert" with Tsai Kang Yong and Dee "Xiao S" Hsu as hosts is going to be held on March 15 at the Shanghai Sports Arena. Besides revealing that Show Lo and Jolin Tsai will be performing, this time the audience will also be able to watch celebrities show off their dance skills, the event can be called a "Dance World Assembly."
"Dance World Masters" Compete
As one of the performing guests, Show "Xiao Zhu" Lo has recently come back from a pilgrimage to New York, receiving instructions from a world renowned choreographer, who has worked with the King of Pop, Michael Jackson, Beyonce, and many other big time celebrities. Last year, while he guested on a Taiwanese Variety Show "Kang Xi Lai Le [Here Comes KangXi]," Dee "Xiao S" Hsu [Hsu Xi Yuan] and Tsai Kang Yong had worked together to force Show join a competition of playing with a Diablo [Chinese Yo-yo], magic tricks, and ping pong. In the end Show could help but step down. This time in Shanghai, Show will exchange his role, for the first time, from a "student" promoted to a "teacher," and will once again, under the provoking of the "KangXi" duo, "pulling tricks" with newcomer Jia Wen. With the newly learned dance skills, he will be applying that live on stage to inspire new generation dance skills.
Being born the same year as Jolin Tsai, Lin Bao's dancing and singing skills have constantly been compared with that of Jolin's. She will also be sharing the stage with Jolin Tsai for the first time in a battle. This makes the concert a little like a large version of a "Dance World Assembly." It's been said taht the performances this time is mainly based on dance songs, all performing guests will be showing off their dance skills, solid performances. Besides Dance King Show Lo, and Dance Queen Jolin Tsai, the dancing singing sensual Landy Wen is also on deck. The three "Dance World Masters" share the stage. Hosts Xiao S and Kang Yong will be adding even more "fire" on this competition, during that time they duo will purposely try to give these big shots a hard time.
Barbie "Da S" Hsu Might Attend
The organizers disclose, this concert will have a secret special guest. As Dee "Xiao S" Hsu's memorable first event returning from her maternity leave, it's possible that Barbie "Da S" Hsu will come and give her support. If Da + Xiao S [Big + Little S] can share the stage, it will definitely bring in another wave of a typhoon. At the same time, Xiao S's good friend Fan Wei Chi and Jolin's management company mate, Rainie Yang, has also been listed on the possible guests list. But knowing that this event is based on dance, this secret guest has to show off their dance skills first for them to participate.
Source: News Times
Translated by o_ost1nao_o
Spoiler:

群星拼舞藝"康熙"做裁判

"感恩的心上海演唱會"下月舉行,大S有望助陣

  由蔡康永、小S擔任主持的"感恩的心上海演唱會"即將於3月15日在上海體育場上演,而除了此前曝光的羅志祥與蔡依林的演出陣容外,這次觀眾還將看到藝人們飆舞的場面,堪稱是一場"舞林大會"。

  "舞林高手"大比拼

  作為這次表演的重要表演嘉賓之一,"小豬"羅志祥剛剛遠赴紐約取經,並師從於曾教過天王邁克爾•傑克遜、碧昂絲等大明星的世界級編舞大師。去年上台灣地區電視綜藝節目《康熙來了》時,小S徐熙娣曾經聯手蔡康永,逼得羅志祥現場比試扯鈴、魔術和桌球,最終"小豬"不得不甘拜下風。這一次來到上海,羅志祥將首度轉換身份,從"學生"升格為"老師",又一次在"康熙"二人組的推波助瀾下,與樂壇新人嘉文同台"過招",並將剛剛學到的舞蹈技巧"學以致用",現場點撥後輩舞藝。

  與蔡依林同年出生,且從舞蹈唱功都常常被外界拿來比較的歌手林寶,到時也將和蔡依林首度同台PK,這讓演唱會堪稱是一台大型的"舞林大會"。據悉,這次所有表演環節將以舞曲為主,所有表演嘉賓須得亮出舞技,扎扎實實較量一番。屆時,除了舞王羅志祥、舞後蔡依林外,擅長勁歌熱舞且動感十足的溫嵐也將上陣,三大"舞林高手"同台較勁。主持人小S、蔡康永還將為此次"火拼"再添一把火,到時二人將在比拼舞技等幾個環節上故意為難一下大牌們。

  大S可能參加

  主辦方表示,這場演唱會還將有神秘嘉賓登場。作為小S產後复出紀念性的第一站,大S極有可能傾力相助,大小S若能同台勢必又將掀起又一陣颶風。同時,小S的好姐妹範瑋琪,與蔡依林同屬一家經紀公司的楊丞琳也在被邀請的嘉賓名單之列。不過由於已經定下了以舞為主的基調,這位神秘來賓也得先亮出自己的舞技才行。

[You must be registered and logged in to see this link.]

chinesegiirl93

Staff Security





Number of posts

: 738




---
Permissions in this forum:
You
cannot
reply to topics in this forum