SFC Update
201

3-

14 SFC Members

who

would like to access the SFC section for translations,
Please send a message to >>Admin<<
(

I

nclude : Full Name, SFC ID, SFC Username, Email)
Thank you!

201

2-

13 SFC Members

The DVD and Story Book translations are available on request, please contact Stina for info. Thanks!
------------------------------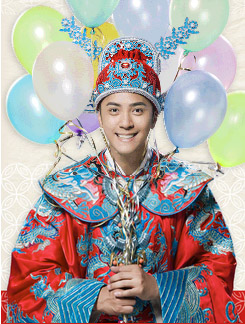 ------------------------------

------------------------------

1st Japanese Album
The SHOW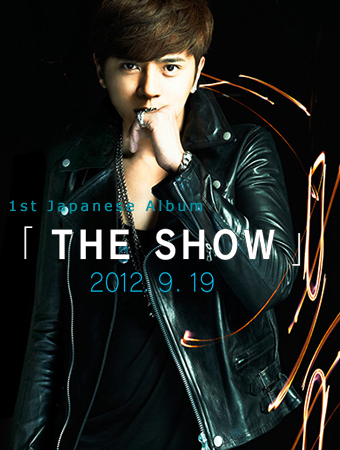 -------------------------------

Show Lo's Inflamed Throat is Recovering, Hoping His Concert Will Be Even Better Than Before
02/19/2008
"How many dance shoes must be worn out, to be the most outstanding on center stage," Show Lo is finally fulfilling his wish of holding his own concert in Hong Kong! Titled as Asia's New Generation Dance King, Taiwanese artist Show Lo, in continuance of his "dance explosion" at Taipei's Arena, will be bringing his "Show On Stage" World Tour to Hong Kong on 2/23 and 2/24 at the Pop TV Arena. This also Show's first time holding a ticketed concert in Hong Kong.
In consideration that this is his first concert in Hong Kong, his record company had originally planned for one concert. But when they found out that the ticket sales were explosive and running short, they promptly added a second concert. At an earlier interview, Show said, "When I found out about this, I was really shocked. Adding another concert never crossed my mind." He blatantly said that it's a lot of pressure on his part. Besides being worried about the weathers outdoors, he's also afraid of the strict standards that his fans will give him. "My fans in Hong Kong are picky, But I have to save face. At first I wanted just one concert, and then get some feedback from my fans, because nevertheless my fans have to spend money to watch my concert. And since everyone is so supportive, I can only work even harder to show myself, to let everyone feel that watching 'Xiao Zhu's[Little Pig's] concert is worth it and enjoyable." With regards to words of ridicule, Show very calmingly believes that every performance has its critics, "searching for bones within an egg," actually it's like an incentive for yourself. One shouldn't think too much, just let down your guard and give it your all.
Show Lo's "Show On Stage" World Tour Hong Kong Concert has expenditures of over $1 million HKD. The original crew of 50 members from Taipei's Arena concert will also be performing in Hong Kong, even the dazzling props and lights will be untouched and transported to the Hong Kong stage. Besides all of this, there will also be new additions to the concert, like newly tailored costumes, new Cantonese songs, etc. As for the concert guests, Show isn't saying it, but he disclosed that it won't be like Taipei's concert, with all of them being female guests, but then again, it's not sure. From Taiwan's "Four Heavenly Kings" boy band, with regards to imitating Andy Lau, Aaron Kwok, and the others of the "Four Heavenly Kings," Show has imitated them to a tee. Show said that if his two idols are able to attend and watch his concert, he'd be nervous to death, but he hopes that they'd attend. He also expressed that he has to sing a Cantonese song, and very jokingly said that Cantonese songs are really easy. At his concert, there is continuous dancing and singing for an hour, fans are worried for Show, whether or not his body can take it. Show said that being in the business for 13 years, 2007 was his most rewarding year, "My first step was taken later that other people, but I have to try even harder. Energy isn't a problem!"
Show Lo, who hasn't been able to sleep on his own bed in a while, had a very busy year last year; holding 10,000 people autograph sessions, holding ticketed concerts, filming idol drama "Hot Shot," filming commercials making him "omnipresent," releasing his new album "Wu Suo Bu Zai [Omnipresent] - Show Your Dance," which topped all music seller's charts, and held the #1 spot at the G-Music billboards for 3 consecutive weeks. Something worth mentioning is that in the album, the song "Wo Bu Hui Chang Ge[I Don't Know How To Sing] - A Song For You" in continuance of "Love*Corner" is a must-sing karaoke for everyone, holding a championed title in the KTV billboard, and top searched key word. At the beginning of 2008, Show's throat inflammation is affecting his work, making his staff and fans all worried sick. His work only allows him to cure his throat in the most conservative way. Passing through the Lunar New Year, with adjustments from his body, "Chi Gong," and Chinese herbal remedies, his situation seems to look brighter. Show said that he wouldn't cut himself any slack, so he's working hard to present himself in the best condition to thank his fans. He very happily guaranteed, Hong Kong's "first" will definitely be a challenge of visual and sound limitations, Showing world class dancing all at once!
At the moment, Show is still working on a new surprise, hoping that the concert planning, costuming, and performance would bring an unbelievable new punch! Besides this, by popular demand, Show will return to Mainland China for album promotions in March, to share his happiness with his fans. At the same time, as EMI Music has introduced, Show's newest album, "Wu Suo Bu Zai[Omnipresent] - Show Your Dance" will also be re-released in Mainland China, and the album will use a special, large sized, luxurious packaging, which will include amazing, valuable gifts, and Show's "Omnipresent" super charm and charisma. It will definitely make people fall in love with it, and will be Show "Xiao Zhu" Lo's New Lunar Year's Present to his fans in the year of the rat.
[You must be registered and logged in to see this image.]
[You must be registered and logged in to see this image.]
Source: Sina
Translated by o_ost1nao_o
Spoiler:

[2008-02-19 新浪]羅志祥嗓子炎症痊癒期待演唱會更上一層樓

"要踏破多少鐵鞋,才能成就舞台上的一枝獨秀",羅志祥終於要以償夙願的在香港舉辦個人演唱會啦!有著亞洲新一代舞王之稱的台灣歌手羅志祥,繼去年成功 "跳爆"台灣小巨蛋之後,"一支獨SHOW"世界巡迴演唱會香港站即將在2月23日及24日在西九龍中天地舉行,這也是小豬首次在港舉辦售票性質的演唱會。

考慮到首次在香港開演唱會的緣故,唱片公司原本只安排了一場,但當得知演唱會票房相當火爆,一票難求後,臨時決定加演一場,小豬早前在接受媒體採訪時表示,"自己在得知這一消息後,真的嚇了一跳,因為根本沒想過加場"。他也坦言,自己壓力很大,除了擔心當天的戶外天氣外,更怕歌迷對他的嚴格要求,"香港的FANS都很挑剔,自己又很愛面子,當初做一場本來是想看看歌迷的反應,畢竟歌迷看演唱會是要花錢的,既然大家這麼支持我,我也一定會更努力的表現自己,讓大家覺得看小豬的演唱會是值得和開心的",對於一些對他有偏見的說法,小豬很平靜的認為,每個演出都會有人去挑剔,雞蛋裡挑骨頭,其實是對自己的鞭策,自己也不會想那麼多,眼下他還是要努力做好自己。

羅志祥"一支獨SHOW"世界巡迴演唱會香港站耗資數百萬港元,更將去年11月台北小巨蛋個唱的原班人馬一行50人全部移師來港演出,甚至連在小巨蛋的爆破場面和燈光也將原裝搬到香港的舞台上,相當令人。除此之外,演唱會在一些環節設置還新增不少特色,比如重新訂做的演出服裝、新增演唱的廣東歌曲等。至於演唱會的嘉賓,小豬大賣關子,透露說,絕對不會像台北演唱會那樣,所有的都是女嘉賓,但又說,也不一定。從台灣"四大天王"組合身份出道的小豬對模仿劉德華、郭富城等名副其實的"四大天王"相當惟妙惟肖,小豬說如果兩位偶像都來看他的演唱會,他一定會緊張死了,不過他也期待他們能來,他還表示,自己一定會唱廣東歌,更開玩笑的稱廣東歌很簡單。在個唱上,連續熱歌勁舞一個多小時,歌迷們很擔心小豬的身體能夠吃得消,小豬說,自己出道13年,2007年才有豐收年的感覺,"我的起步比別人晚,當然要更努力,體力上自己是不成問題的"!

For the rest of the article please visit :

[You must be registered and logged in to see this link.]
Last edited by o_ost1nao_o on Wed Feb 20, 2008 3:17 am; edited 1 time in total
i hope show can do a concert here in the philippines ~_~

---
Permissions in this forum:
You
cannot
reply to topics in this forum