SFC Update
201

3-

14 SFC Members

who

would like to access the SFC section for translations,
Please send a message to >>Admin<<
(

I

nclude : Full Name, SFC ID, SFC Username, Email)
Thank you!

201

2-

13 SFC Members

The DVD and Story Book translations are available on request, please contact Stina for info. Thanks!
------------------------------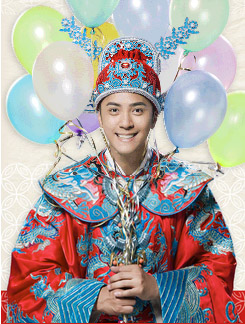 ------------------------------

------------------------------

1st Japanese Album
The SHOW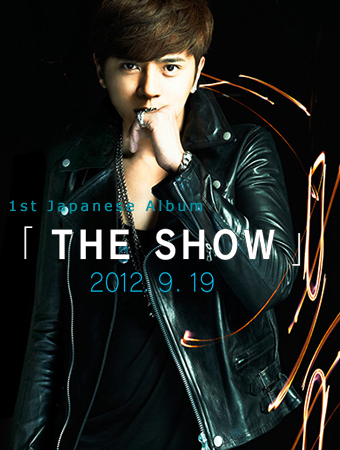 -------------------------------

"Wu Suo Bu Zai[Omnipresent] - Show Your Dance" Album Review
02/18/2008
Last year, after leaving Avex Trax and then promoted to EMI's "First Brother" [Main Man], Show Lo will soon be holding his ticket selling solo concert in Hong Kong. Earlier, he had released his first Mandarin album with EMI, "Wu Suo Bu Zai [Omnipresent] - Show Your Dance," with continuance of his appearance as "Dance King," -- he vows to make his own illustrious mark in world of Asian Music.
When Show "Xiao Zhu[Little Pig]" Lo was over at Avex, his past albums have sold very well, with 2 song schemes "Dance Songs" and "Slow Songs." With this strategy, it indubitably attracted music fans from Taiwan and all over the world. I believe, that Show has definite potential in the music industry. First of all, he has an idol singer's foremost important factor, a handsome exterior, which would naturally and easily grab the attention of music fans. Also, the albums that he's recorded at Avex have all expressed a very strong listening endurance and youthful sound, which allows people to not only listen very enthusiastically, but also doesn't have them thinking it's too heavy and old-fashioned. As for his voice, even though it's not perfect, but it sounds sincere, pleasing to the ear, and it definitely has it's appeal. Thus, as long as his newly signed record company would give him more resources, setting up an even better domain for him, while he works even harder, for him to climb to another peak is definitely not just a daydream.
This time's "Wu Suo Bu Zai[Omnipresent] - Show Your Dance" is still largely based on the popular dance music and slow love songs. The music style varies in a wide spectrum, grabbing hold of most trendy pulse, displaying the trend of the youthful generation. With energy and liberty, in comparison to the last album "Cui Mian Show[Hypnosis Show]," this one is a lot more intense and more fitting for the public, even after hearing it a few times through, it still won't feel heavy and stale. [note: the last album was actually "SPESHOW".. the author got a little confused

] As for Show's voice, even though it's not a huge breakthrough, but there was still some improvement; emotions in a song are more solid and prevalent. And in dealing with different song types, he also knows to find a fitting tone, with further heightens the enjoyment value.
It's hit song "Yi Zhi Du Xiu [Outstanding] - Show Time" is a fast-paced, rhythmic dance tune. The melodic tune is largely based on a rhythmic momentum, creating a kind of force that entices a music fan's nerves. As for the lyrics, there isn't much to say there, but the entire song put together is a very good dance piece. The music style of "Dang Wo Men Zai Yi Kuai - When We Are 2gether" is light and upbeat, lyrics are fluid and pleasing to the ear. Show's lively and cheeky way of delivering the song, brings a very satisfying effect to the song, filling in some warmth on the cold winter days. His duet with Elva Hsiao "Bai Gei Ni - Defeat in Love," the lyrics can closely relate to the younger generation, the effect is also very catchy and pleasing to the ears. And the most inviting thing of the song is the surfacing of Elva's sexy low-keyed voice, like a type of temptation. The commercial theme "Wo Xiu Gu Wo Zai - I Dance Therefore I Am" is also a song that's full of life and spirit. The English part in the chorus line doesn't do much, but it's easily ingrained in people's minds. Show's efforts in song deliverance is what appeals to me most. As for other songs "Fang Dao Suo - The Lock On Your Heart" and "Zuo De Dao - Do It Well," they're all songs that are worth listening to.
Source: Sina
Translated by o_ost1nao_o
Spoiler:

【2008/02/18】香港新浪網 "舞所不在" 碟評

文/ 李重言Stephen Lee

去年離開艾迴(Avex)躍升為EMI一哥,並快將來港舉行個人售票演唱會的羅志祥,早前發行了他在EMI第一張國語專輯《舞所不在》,繼續以「舞王」形象出現在樂迷面前,似誓要在華語歌壇中獨樹一格。

「小豬」(羅志祥之暱稱)在艾迴發行過的幾張專輯成績理想,其「舞曲」和「抒情」雙線平列﹑雙頭馬車的策略,無疑成功吸引寶島及各地樂迷的歡心。個人認為,小豬在歌壇是具有一定潛力的,首先他擁有偶像歌手必備的俊朗外型,自然較易叫樂迷留意。再者,他在Avex錄下的專輯往往展現出很強的耐聽度和年輕感,讓人聽得起勁之餘,又不覺得沉悶老套。至於他的歌聲雖不是美如天籟之類,但聽起來還是誠懇﹑順耳,吸引力終究是有的。因此,只要小豬新簽的東家能給他多一些資源,為他定下更好的版圖,而他又進一步努力,他要再上一層樓絕對不是夢話。

言歸正傳,今次這張《舞所不在》仍然是張極具流行度的跳舞與抒情專輯,音樂風格多元不狹隘,抓得緊潮流脈搏,展現出年輕人的朝氣﹑活力與自我,效果亦見搶耳,較上張《催眠Show》更具聽覺刺激和更適合普羅大眾,多聽幾遍也不會覺得沉悶。至於小豬的歌唱表現雖不算有大突破,但也有小進境,演繹歌曲時的感情更立體﹑鮮明,處理不同歌曲時也懂得變化制宜,可賞度有所提升。

主打歌《一支獨秀》是首節拍明快的舞曲,編曲具節奏感與氣勢,產生一種張力,並挑動樂迷的神經,歌詞方面雖無甚麼可喜,但整首歌綜合而言也是首稱職的舞曲。《當我們宅一塊》曲風輕快,詞曲流暢順耳,小豬活潑調皮的演繹也帶出愜意的效果,為寒冷的冬日添了一些熱力。同蕭亞軒合唱的《敗給你》詞曲貼近時下年輕朋友的口味,效果也搶耳並順耳,而整首歌最吸引的莫過於蕭亞軒那流露得不著痕跡的性感中音,有一種誘惑。廣告歌《我秀故我在》也是一首散發動感的歌,副歌歌詞的英文口號無甚麼益處,但總算叫人易於記憶,反而小豬有力的演繹才是最叫筆者留意。其他歌曲方面,《防盜鎖》和《做得到》也值得一聽。

作者簡介:李重言Stephen Lee(

[You must be registered and logged in to see this link.]

)樂評人和專欄作者,入行七年來曾寫下四千二百篇碟評,終日遊走於各大網站﹑報章雜誌,早年亦曾為某傳媒提供英文版碟評。

Introduction to the author: Stephen Lee (http://stephenlee.hk.st), Music Critic and Columnist. In the business for 7 years, and has written 7,200 album reviews. Subscriptions to name sites, and news magazines. Had previously written reviews in English.

新聞來源:

[You must be registered and logged in to see this link.]
the author obviously did not do a lot of research when writing this article even though he does praise Show

Lyzzrenee

Fan





Number of posts

: 123


Age

: 37


Location

: Shanghai



haha i think the author just got a little confused..
but i think he did a good job critiquing Show's Album

It's pretty sincere, and in no way was it attacking him.

Whoever this guy is.. is pretty credible I think..
it's been a while since there was a sincere review on any album,
with no sarcasm and aimless attacking..
Besides the little mix-up with Show's previous album titles.. everything else is pretty clean..
it wasn't major praising or anything.. it was just clear, sincere commentary... like how he said Show's voice isn't perfect...but it's easy listening..

anyway.. i liked this review.. cuz usually reviews for any album is always just aimless flaming.. which is pointless.. but this one was pretty level-headed



Similar topics
---
Permissions in this forum:
You
cannot
reply to topics in this forum