SFC Update
201

3-

14 SFC Members

who

would like to access the SFC section for translations,
Please send a message to >>Admin<<
(

I

nclude : Full Name, SFC ID, SFC Username, Email)
Thank you!

201

2-

13 SFC Members

The DVD and Story Book translations are available on request, please contact Stina for info. Thanks!
------------------------------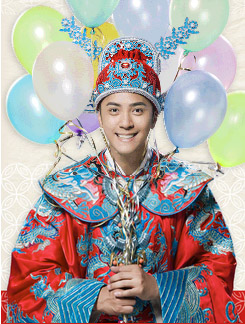 ------------------------------

------------------------------

1st Japanese Album
The SHOW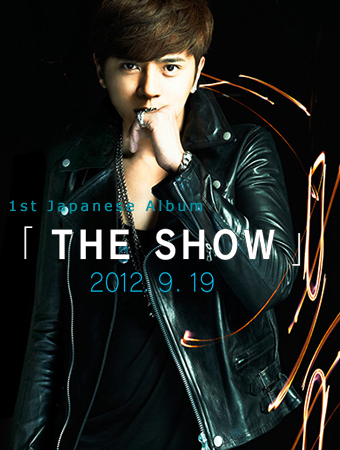 -------------------------------

Jam Hsiao and Show Lo PK on the Courts
06/21/2008
"The Little Pig" Vs. "The Black Spider," who will win? Before they even competed, Show "Xiao Zhu [Little Pig]" Lo got sick and called it off, then Jam Hsiao got a 10 cm cut from his shower door. At first they thought about cancelling again, but they were afraid that the fans would have to wait too long, so Jam wrapped up his cut and played, manly said, "I'm okay. Thanks for all your concern."
Loser Promises to Buy Other's 100 Albums
Jam Hsiao released a new album, GTV's 100% Entertainment special episode, had Show and Jam go for a battle of the king of sports. First a bowling match, then a basketball competition. Last week before the competition, Show had suddenly come down with a fever and was rushed to the hospital for an IV drip, so it was postponed. The night before the last, Jam was the one that had a situation where he was cut by a sharp edge of the shower door. But he wrapped up the cut and hit the courts. Before the competition started, the two had bet whoever loses will be buying the other's albums, 100 of them, and the winner will also in return buy 10 albums.
Bowling Match : Mr. Hsiao In the Gutters and then Strike!
The first bowling match, Show knew that Jam was injured, so very generously gave him a head start of 20 points. Jam chose the 9 lbs. ball and naturally it went in the gutter, the fans were screaming wildly. Show was prepared and brought his own bowling shoes and a 16 lbs ball, knocking down 8 pins in the first turn.
Interestingly, while Show was bowling, Jam took that time to warm-up and stretch his legs on the side, and even did Michael Jackson's signature leg lift pose, making people laugh out loud. After the warm-up his score started to improve a lot, consecutive strikes making even Show shocked. In the end, the pig vs. spider score ended up 122 to 117, but Show had wanted to give 20 points to Jam so Jam ended up being the victor.
Lo's Valiance Under the Hoop, Pool Competition To Come
Afterwards, these two competitors went on to Ming Chuan University's basketball courts. The two were competing in "acting cool," "three-pointers," and "3 on 3." Jam Hsiao was good at intercepting, blocking shots. Show wore his jersey from the just filmed drama "Hot Shot," he brought the house down. These two in these two ball games were tied one to one, the last one will be pool where it will be taped in the studio on the 24th.
Source : China Times
Translated by o_ost1nao_o
Spoiler:

【2008/06/21 中國時報 】蕭敬騰跛腳蓋火鍋 籃下PK 小豬發威

蕭敬騰跛腳蓋火鍋 籃下PK 小豬發威

[You must be registered and logged in to see this link.]

「小豬」PK「黑蜘蛛」,到底誰贏?還沒開打,羅志祥(小豬)先感冒請假,接著蕭敬騰洗澡遭門板劃破10公分傷口,本想再請假一次,但怕PK賽觀眾歌迷久等,蕭敬騰包紮後帶傷上陣,還很有男子氣概的說:「沒事,謝謝大家關心。」

輸家允諾 買對方百張專輯

 蕭敬騰出新專輯,八大《娛樂百分百》特別企劃小豬、蕭敬騰來一場球王爭奪戰,先比保齡球,再打籃球一拚高下,上周賽前,小豬突然發高燒赴醫院吊點滴,只好將通告延後。前晚,則換成是蕭敬騰不慎,洗澡時遭門板利處割傷腳,包紮後仍上場,開賽前,兩人打賭約定,輸的人買下對方100張專輯,贏的人也要回敬 10張,算是禮尚往來。

保齡球賽 蕭先洗溝後全倒

 第一局保齡球賽,小豬知道蕭敬騰受傷,誇口讓他20分,果然,蕭敬騰選了9磅球,第一擲就先洗溝,粉絲哀叫連連。小豬有備而來,自備球鞋和16磅專屬球,第一球則是開出了8瓶。

 有趣的是,蕭敬騰趁小豬打球時,開始做起抬腿暖身運動,還擺出麥可傑克森的招牌踢腿POSE,讓人發噱,暖身過後成績突飛猛進,接連全倒讓小豬傻眼,最後豬、蛛比數是122:117,但小豬要讓他20分,算蕭敬騰贏。

羅籃下英勇 撞球來日再戰

 接著兩隊開拔到銘傳大學逸仙堂籃球場,雙方比「耍帥」、「三分線投籃」、「3對3鬥牛」,蕭敬騰攔截、蓋火鍋,身手不凡,羅志祥穿剛拍畢新戲《籃球火》中的球衣迎戰,贏得滿堂彩。兩人在兩球類項目1比1打成平手,剩下撞球部分留到24日攝影棚內比賽。
__________________________________________
[You must be registered and logged in to see this image.]
hehee...both zhu zhu. but "this zhu is not that zhu" (ci zhu fei bi zhu) LOL. that Show with the 16 lb ball..luckily nobody went near him..LOL, *DROP* oops...but for sure Show will remember you. LOL.
THIS DUDE HAS SPORTSMANSHIP:) he let Jam win!! awww....lol...and Jam's pretty good at basketball...welps at least with the shooting! DA YING DA YING....SOO HANDSOME!
cant wait for the poollllllllll....SHOW WIN SHOW

lol....then Jam can buy 100 CDs of your NEW album LOL.
__________________________________________
[You must be registered and logged in to see this image.]
yeah i wanna watch it too...lol SHow let Jam to win at the bowling thing....hahhaa 20 points head...how cool he is...oh my gosh...16lb...while the other guy is holding a 9 lb...hhhhahaha!!

Killer_smile

Super Fan





Number of posts

: 205




He lost the PK ... He can win if he has not gave 20 points to Jam for the bowling


ailin_stef

Fan





Number of posts

: 116


Age

: 25


Location

: France ( Paris )




---
Permissions in this forum:
You
cannot
reply to topics in this forum