SFC Update
201

3-

14 SFC Members

who

would like to access the SFC section for translations,
Please send a message to >>Admin<<
(

I

nclude : Full Name, SFC ID, SFC Username, Email)
Thank you!

201

2-

13 SFC Members

The DVD and Story Book translations are available on request, please contact Stina for info. Thanks!
------------------------------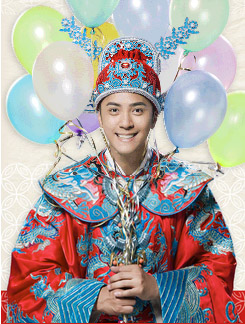 ------------------------------

------------------------------

1st Japanese Album
The SHOW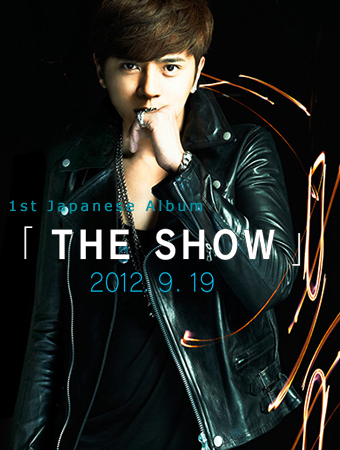 -------------------------------

Show Lo Endorses Metro Street Dancing Competition, Films Commercial and Shows Off Muscles
06/09/2008
With collaborations between Cathay Bank, Hitoradio, and Taipei Rapid Transit Corporation, they are holding the Fourth Annual Metro Street Dancing Competition. This year they invited Show "Xiao Zhu [Little Pig]" Lo as their event spokesperson, following the previous endorsers Jolin Tsai and A-Mei Chang. Earlier, Dance King Show also especially rode the metro to film the event commercial. Besides taking the metro during his school days, he rarely got the chance to take public transportation again. So when he saw the handles, he revealed that he used to hang on the handles to get girls' attention. He also started to imitate the starting position of Olympic athletes, unchanging of his comical nature.
Besides going there for work, Show has never taken the metro in private, and was very complimenting of the Taipei metro system. He saw lots of students and blue-collared workers come and go on the metro, which he couldn't help but say, "When I have time, I'm going give the Taipei Metro a try. It'll be like going back to the olden school days, getting that feeling of taking public transportation. And then maybe I can try for some romance on the way, returning to high school life isn't half bad." Speaking of ways to pick up girls, Show laughed and said, "Passing paper notes is a must!" and then comically added, "I passed notes like crazy! Afraid that I'd get rejected, I passed on to everyone, so I'll get at least 1 out of 10!" This made everyone tease him about how "Show is aimless!"
During the filming of the event commercial, Show played happily. Besides using the metro hanging handles as gymnastic rings, he also very handsomely used them to show off his hip and arm strength. He also imitated the Olympic gymnasts in their starting stance. Show said, "Upon seeing the inside of the metro, I can't help but want to imitate a scene from "God Of Gamblers 3," where the God of Gamblers encountered Lung Wu on on the train."
The Fourth Annual Metro Dancing Competition sign-ups starts from 06/16 and ends on 07/13. The competition is giving out a total of $370,000 as prize money, in hopes that all lovers of dancing would participate in this event, dancing out their youthfulness. More information can be found on
[You must be registered and logged in to see this link.]
[You must be registered and logged in to see this link.]
[You must be registered and logged in to see this link.]
[You must be registered and logged in to see this link.]
[You must be registered and logged in to see this link.]
[You must be registered and logged in to see this link.]
Source: Hitoradio
Translated by o_ost1nao_o
Spoiler:

【2008-06-09 Hito radio】羅志祥代言捷運盃街舞大賽拍CF秀肌肉

由台北捷運公司、國泰世華銀行、 台北之音Hit Fm聯播網合辦的「第四屆捷運盃街舞大賽」,本屆邀來首位男性代言人小豬羅志祥為活動代言,繼前兩屆代言人天后蔡依林與張惠妹加持後,舞王小豬日前也特別進到捷運站內拍攝活動CF,許久沒有機會搭乘大眾交通工具的小豬,除了大爆學生時代通勤中的把妹技巧外,一看到捷運車廂內的吊環手把,小豬除了當場利用吊環做起運動來展現臂力之外,還模仿起奧運體操選手的預備動作,不改以往搞笑風格。

除了工作取景拍攝外,私下從沒有搭過捷運的羅志祥,對於台北捷運可是讚不絕口,看到人來人往的捷運站內許多通勤的學生與上班族,不禁讓小豬直呼:「下次有空一定要來搭搭台北捷運,像是回到學生時代搭大眾交通工具通勤的感覺,順便來可以來段浪漫邂逅,回到高中的生活感覺很不錯。」講起通勤的把妹技巧,小豬笑說:「傳紙條是一定要的啊!」更開玩笑的表示:「我高中時傳紙條可是傳慘了!每個都傳因為怕被打槍所以狂傳,十張起碼會中一張的!」此話一出立刻被大家虧說:「小豬那是亂搶打鳥吧!」

除了傳紙條之外,收情書經驗也相當豐富的小豬,談起學生時代可是不諱言的誇說:「在當年自己可是有基隆之草之稱。」,更忍不住開玩笑的說:「我還沒當藝人之前,可是比現在還要紅!」,而最另羅志祥印象深刻的就是,當時的學生流行在書包內放入木板,讓書包看起很挺很帥,因此有一位女同學,就以用木板為材質親手裁切出特別的形狀,並且將要向羅志祥告白的話全都寫在木板上,超實用的情書還可以隨身放在書包內,只是問到小豬與這位女同學有沒有後續發展時,小豬則不改搞笑風格的表示:「當然有在一起啊!只是後面發現不適合!」而有「亞洲舞王」之稱的小豬表示,其實以前也曾經考慮過到底要學琴還是學舞,只是詢問過周遭女性有人的意見,大部分的女生都認為會跳舞的男生要比會彈琴的男生要吸引人,而會跳舞的男生與打籃球的男生相較之下,仍是會跳舞的男生魅力勝出,也因此小豬笑說:「既然跳舞比較帥,當然要跳舞啊!」。

在活動CF拍攝空檔,玩High了的小豬,除了把捷運車廂內吊環當場練起身體來,更耍帥的單手拉吊環展現腰力與臂力,還學起奧運體操隊的準備姿勢,小豬更頻頻表示:「看到捷運車廂內場景,就讓人忍不想模仿電影「賭神3」中,賭神與龍五在地鐵內相遇的武打畫面。」「第四屆捷運盃街舞大賽」活動將從6月16日到7月13日開始報名,活動總獎金高達37萬元,希望所有愛跳舞的年輕朋友們都能一起加入行列,舞出自我舞動青春,詳請可以上

[You must be registered and logged in to see this link.][You must be registered and logged in to see this link.]
__________________________________________
[You must be registered and logged in to see this image.]
I bet Show is the only one who can play with the handles looking like a child and a prince at the same time~
lol
passing notes is a must?? now i know~
__________________________________________
♥ 김재중 ♥ 박유천 ♥ 김준수 ♥
J.Y.J

kprincess

Stage Hands





Number of posts

: 1727


Age

: 27


Location

: Singapore



lol, last pic, it looks like he's missing a piece of his armpit hair XD
which reminds me of the time when Energy tricked him into doing a shaver commercial XD he had to dye his armpit hair from black to brown, and in the end, had to shave it off XD

ps. I LOVE HIS FREAKIN ARMS! (the rest of him as well, but my lard, his arms! <3)

littlecutekitty

Fan Family Member





Number of posts

: 324


Age

: 29


Location

: Canada




---
Permissions in this forum:
You
cannot
reply to topics in this forum