SFC Update
201

3-

14 SFC Members

who

would like to access the SFC section for translations,
Please send a message to >>Admin<<
(

I

nclude : Full Name, SFC ID, SFC Username, Email)
Thank you!

201

2-

13 SFC Members

The DVD and Story Book translations are available on request, please contact Stina for info. Thanks!
------------------------------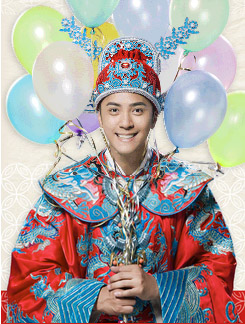 ------------------------------

------------------------------

1st Japanese Album
The SHOW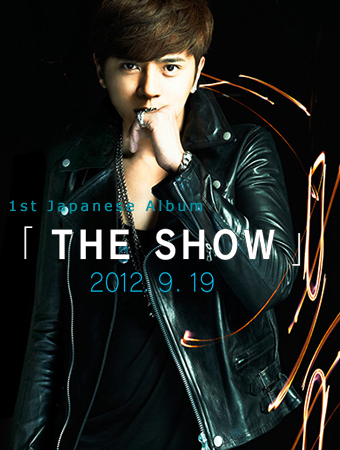 -------------------------------

Show Lo with a High Fever Forfeits Competition, Easy Win For Jam Hsiao the Weakling
06/14/2008
Yesterday Ah Xia (the reporter's name) heard that Jam Hsiao was diligently practicing basketball with a Blackie (Chen Jian Zhou), but too bad his last minute brush up moves were just not that great, even Blackie didn't think he'd win Show. Ah Ha was actually look forward to the basketball competition between the two, but unluckily, last morning, Show came down with a high fever and cancelled the event, which made Ah Ha completely disappointed. What a cheap win for Jam, he escaped one challenge, not having everyone see his weak basketball and saved face.
At the hospital, on IV drip
Ah Ha heard that Show's fever was 39°C (~102°F), so he was rushed to the hospital for an IV drip, two packs too. Ah Ha feels that there's always another chance for basketball, but health is the most important.
[You must be registered and logged in to see this link.]
Source: Apple Daily
Translated by o_ost1nao_o
Spoiler:

【2008/06/14 台灣蘋果日報】小豬高燒棄賽 便宜肉腳蕭敬騰

阿霞昨聽說蕭敬騰近來努力拜師藝人黑人(陳建州)學打籃球,可惜臨時惡補的球技實在不怎樣,連黑人都不看好他會贏小豬,阿霞本來很期待2人對尬籃球,沒想 到昨早上小豬因發高燒急撤通告,讓阿霞失望透頂,這下倒便宜了蕭敬騰,逃過一劫,不用讓大家一睹他的肉腳球技,也保住了面子。

就醫吊點滴

阿霞聽說小豬高燒39度,緊急赴醫院吊點滴,還連吊2瓶,阿霞覺得打籃球有的是機會,身體健康才是長久之計啦。

[You must be registered and logged in to see this link.]
__________________________________________
[You must be registered and logged in to see this image.]
Poor Poor xiao zhu..



don't forget that your health is more important than program or work ok??!!!!!
Aii yoo..
There r lotz of news told dat Show's get fever..
So...(i dunno wad 2say..)
Hope u'll be better soon..
(ah,im realy spechlez..)
T_T

gandezt

Fan Family Member





Number of posts

: 339


Age

: 27


Location

: Indonesia



lol, is he still posing in the pic with his hand!? lol
gosh, i hope he gets better soon >< he was sick already with working and all, and now it's gotten worse =(
i hope they continue the competition after he gets better?

littlecutekitty

Fan Family Member





Number of posts

: 324


Age

: 29


Location

: Canada



yeah !! thats what i want to ask??...lol....but yeah..did he get the regular bed..cuz i can see the bed next to it??..i thought celebrities would have the special room...lol...i would mind being sick...then yeah sleep next the him...oh my god..iam crazy..sorry guys..

He will definitely get better..right Xiao Zhu~

Killer_smile

Super Fan





Number of posts

: 205



you are so hardworking or workaholic but still don't forget to rest...


Alyssa Ordońez

Super Fan





Number of posts

: 261


Age

: 23


Location

: Manila, Philippines




---
Permissions in this forum:
You
cannot
reply to topics in this forum