SFC Update
201

3-

14 SFC Members

who

would like to access the SFC section for translations,
Please send a message to >>Admin<<
(

I

nclude : Full Name, SFC ID, SFC Username, Email)
Thank you!

201

2-

13 SFC Members

The DVD and Story Book translations are available on request, please contact Stina for info. Thanks!
------------------------------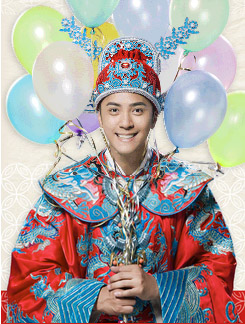 ------------------------------

------------------------------

1st Japanese Album
The SHOW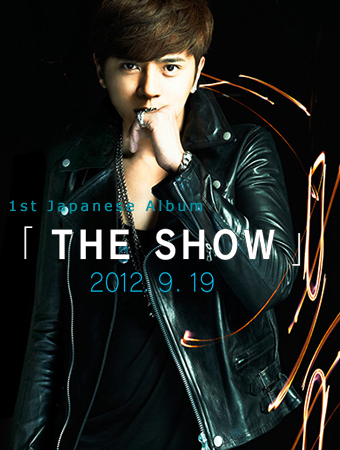 -------------------------------

Popularity King Show Lo Endorses "Taiwan Beer"
06/03/2008
[You must be registered and logged in to see this link.]
At the press conference today (the 2nd), the Taiwan Tobacco and Liquor Corporation officially announced the invitation of popularity king Show Lo to endorse the classic "Taiwan Beer," with high expectations that through Show's youthful, cheerful, energetic image and attitude, it could bring a brand new youthful vitality to "Taiwan Beer," strengthening Taiwan Beer's image!
When the press conference began, Show emerged in a white, charming, nobleman's outfit riding in in a classic convertible. As soon as Show stepped on stage, with the coordination of lighting and special effects, he had caught the attention of the media and honored guests. The atmosphere immediately leapt to its peak, and also had Taiwan Beer spokesperson Show Lo's entrance give off an "irreplaceable" superstar air! Show "Xiao Zhu [Little Pig]" Lo shared his newest commercial for Taiwan Beer with everyone. In the commercial, he played the role of a handsome and charming guy that attends a party that scrambles over "Taiwan Beer" with a beautiful girl. It turns out that the girl was grabbing the beer for her father, and at the end the three of them happily drank together.
The commercial conveys that the flavor of Taiwan Beer is suitable for both young and old. Also, this flavor to those that understand how to taste Taiwan Beer, has definitely become an "irreplaceable" classic taste!
Show expresses that "Taiwan Beer" is the beer that most of the adults around him like to drink. Taiwan Beer's flavor has the bitterness of hops, and has a thick, pure, genuine alcohol texture, even he has a strong affection of Taiwan Beer. He also agrees that Taiwan Beer's classic flavor is irreplaceable by that of other beers! Thus, hoping that through his endorsing, Taiwan Beer's classic taste can continue to pass on through the generations! After the press conference, board chairman Tsai Lin Lin and Taiwan Beer's superstar Show Lo, opened up a big-sized can of Taiwan Beer, where colorful balloons were released to represent "beer bubbles," wishing the best for this year's Taiwan Beer sales, having the sales shoot into the sky! [like the balloons]
Taiwan's Tobacco and Liquor Corporation expresses that "Taiwan Beer" had about 80% of the beer market nationwide, with a year's sales of $26 billion NTD. When Taiwan opened up for foreign imported beer, there were hundreds of big seller foreign beers that shipped in, but "Taiwan Beer" was still standing strong, firmly in place as the countries #1 brand of beer. This year they're going to change their marketing plan. For the "Taiwan Beer" and "Gold Label Taiwan Beer," which have been the best selling products, their marketing tactics are a little different, on brand status, commercial creativity and spokespersons. Using a marketing segmentation to progress its market sales; this is to solve the consumer's image of "The Indistinct Brand Segments." At the same time, beer lovers will be able to choose their favorite beverage to drink. Thus, on designating brand endorsing, they have 'heavenly queen' A-Mei Chang to continue her 2 year endorsement for "Gold Label Taiwan Beer," which has already successfully pulled in a youthful, energetic image for Gold Label Taiwan Beer, and also caused a 10% increase in Gold Label Taiwan Beer sales, which is why they've asked A-Mei to endorse for a third time to continue her endorsement for them, to make "Gold Label Taiwan Beer" go international and expand to younger consumers. "Taiwan Beer" invited 'heavenly king' Show Lo to be spokesperson, because Show's youthful, cheery, energetic, daring , passionate nature, perfectly suits Taiwan Beer's new 2008 brand 'Shang Qing's' theme of "energy, fortitude, and passion." This year, by means of these youthful changes to their market strategy --blahblahblah...and on top of that, with the collaborations with spokespersons A-Mei Chang and Show Lo, it will hopefully win over Taiwan's beer market.
*excuse the not translating everything.. it's was all just about marketing strategy and stuff...all just nothing really.. Show is the important part.. not the Taiwan Beer part.. though I do have to admit.. Taiwan Beer owns all..

*
Source: IDN
Translated by o_ost1nao_o
Spoiler:

【2008/06/03 自立晚报 】人氣小天王羅志祥代言『台灣啤酒』

(記者謝志鵬台北報導)台灣菸酒公司於今(2)日的記者會中,正式宣佈邀請人氣小天王羅志祥代言經典的『台灣啤酒』,期盼藉由小豬年輕、開朗、積極的形象及態度,為『台灣啤酒』品牌注入全新的年輕活力,強化台啤「上青」的形象!

記者會一開始,小豬以一身白色帥氣的貴公子打扮乘坐經典款的敞篷車現身會場,當小豬一踏上舞台,搭配聲光、特效的營造,吸引了所有在場媒體及貴賓的目光,讓現場氣氛急速竄升,也讓台啤代言人羅志祥的登場,展現出「無可取代」的巨星氣勢!小豬也與大家分享他最新拍攝的台啤廣告,在廣告中,他化身為帥氣迷人的貴公子現身於宴會上,並與一位美麗的女子搶喝「台灣啤酒」,原來那名女子是為了幫爸爸拿酒,最後三人歡樂對飲,藉此傳達出台啤的口味是適合「老少咸宜」,而這種口味對懂得品賞台灣啤酒的人來說,更是「無可取代」的經典口味!

小豬表示,「台灣啤酒」是身旁長輩們最喜歡暢飲的啤酒,台啤的口味有啤酒花的苦味,口感香醇厚實,而自己對台啤也是情有獨鍾,更認同台啤的經典啤酒口味是其他啤酒品牌所無法取代的!因此,期望透過自己的此次代言,能將台啤的「上青」經典口味一直持續地傳承下去! 記者會最後,蔡木霖董事長與台啤巨星羅志祥,一同開啟大型的台灣啤酒,釋放出象徵「啤酒氣泡」的五彩氣球,預祝今年「台灣啤酒」的銷售業績「一飛沖天」!

2008年台灣菸酒公司改變台灣菸酒公司表示,「台灣啤酒」在國內啤酒市場佔有率高達80%,年銷售量為260億台幣,當台灣開放國外啤酒進口後,上百種國外熱銷啤酒紛紛湧進,而「台灣啤酒」仍然屹立不搖,穩居國內啤酒市場的第一品牌。今年更改變行銷策略,針對「台灣啤酒」以及「金牌台灣啤酒」這兩種銷量最好的啤酒產品,規劃不同的行銷策略,在品牌定位、廣告創意表現及代言人上,以區隔化的手法進行品牌行銷包裝,以解決長期以來消費者對於台啤「品牌區隔模糊」的印象,同時讓愛喝啤酒的人,能夠選擇自己最愛的暢飲口感。因此,在品牌代言人的設定上,由於天后「張惠妹」連續兩年代言『金牌台灣啤酒』,已成功拉抬金牌台啤年輕活力的形象,更曾締造出金牌台啤銷售量成長10%的佳績,故今年也三度邀請阿妹持續代言,要將『金牌台灣啤酒』帶向國際舞台,更持續拓展年輕族群的市場。『台灣啤酒』則邀請到小天王「羅志祥」代言,因為小豬年輕開朗積極、敢衝敢拼重感情的性格,與台啤2008年在「上青」資產上亟欲強化的「積極、敢拼、感性」的全新品牌資產不謀而合。今年期望藉由一系列年輕化及多元化的整合行銷策略,嚴格的產品控管,以及重新塑造「台灣啤酒」及「金牌台灣啤酒」各自鮮明的品牌個性、市場角色與銷售任務,加上天后張惠妹、天王羅志祥兩人代言話題的持續延燒及首次合作,要搶攻台灣的啤酒市場。

[You must be registered and logged in to see this link.]
__________________________________________
[You must be registered and logged in to see this image.]
hahaha! good job on translating stina =P
i think you've done enough of translating the business parts of it .. i totally understand the "blah blah blah" hahaha =)

..|dreeam|..

Super Fan





Number of posts

: 231


Location

: Toronto, Canada



haha thanks!!

i should've started the blahblahblahing earlier.. but i kinda got carried away.. and then realized that it was useless junk that i was translating.. but since it was already translated.. i just left in .. and the blahblahblah in place of an ellipses.. haha :} next time.. i'll be sure to look at what i'm translating first.. xD
__________________________________________
[You must be registered and logged in to see this image.]
Hope "Taiwan beer" will be the best seller again in this year

Thanks for translating
it will be the best seller of course!!!!!!!! no doubt XD

---
Permissions in this forum:
You
cannot
reply to topics in this forum