SFC Update
201

3-

14 SFC Members

who

would like to access the SFC section for translations,
Please send a message to >>Admin<<
(

I

nclude : Full Name, SFC ID, SFC Username, Email)
Thank you!

201

2-

13 SFC Members

The DVD and Story Book translations are available on request, please contact Stina for info. Thanks!
------------------------------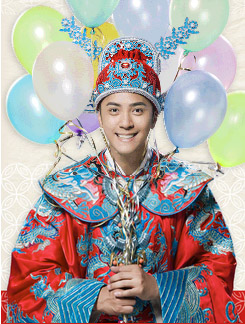 ------------------------------

------------------------------

1st Japanese Album
The SHOW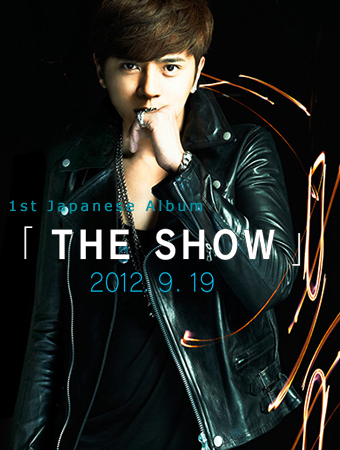 -------------------------------

Howls About How $100,000 Carpet is Destroyed, Show Lo Holds Beer Party and Encounters Earthquake
06/03/2008
[You must be registered and logged in to see this link.]
[▲caption: For $4 million, Show becomes spokesperson for Taiwan Beer]
On the 2nd, Show "Xiao Zhu [Little Pig]" Lo became the spokesperson for Taiwan Beer for $4 million. The night before, he had hauled home 3 cases of glass-bottled Taiwan Beers home for a barbecue with Party Boys. Who would have thought that on that night, he'd encounter 2 disasters. Firstly, at about 12:59 p.m. there was an earthquake that had shaken the table with beer, which then destroyed his $100,000 white carpet. Then it was because there was a gas leakage on the fifth floor [so the gas was turned off], which forced him to shower with cold water.
Disasters Come in Pairs. Encountering 2 Disasters on Break.
Show Lo, with the endless product endorsements waiting for him, had finally gotten a day's break to barbecue at home, but ironically, there was beer, with no bottle opener. So everyone started to think of a variety of ways to be able to drink the beer. Someone suggested to chop off the bottle tops as portrayed in the movie "What Happens in Vegas." But Show rejected these crazy ideas one by one. Then as Alien "Xiao Gui[Little Ghost]" Huang was about to open the bottle on the corner edge of the table, sharp-eyed Show immediately slapped him upside the head, requesting him not to destroy his expensive furniture. The bottle were finally opened by lighters.
Being the Neat Freak He Is, Requires Stripping Down Before Entering the House
Everyone was lounging on the couch and watching television when they encountered a magnitude 3 earthquake. Show witnessed the beer bottles shake and topple over, spilling onto his carpet. He howled in grief "Oh crap! The carpet was expensive!" He admitted that he was a neat freak. He doesn't like it when his things have any sort of defect. He had criticized Party Boys before for not being neat, and requested them to take off their clothes and wearing only their boxers before entering the house. And he is the only person allowed to touch his bed, no one else.
Cold Showers For A Few Days, Whines
Last Saturday, Show stripped down and walked into the bathroom to take a shower, then discovered that there was no hot water. It turned out that there was a gas leakage on the 5th floor, but the people that lived there was on vacation so it was unable to get fixed, so the entire tower's gas was turned off, so he had to take cold showers on these couple of overcast, rainy days. Bitterly unbearable.
Show had once been forced by Jolin Tsai to down 2 glasses of red wine, and became drunk on the spot. Now that he's a spokesperson for beer, he emphasizes that his tolerance for beer is sea deep, and has better tolerance than Jolin, taking this chance to make up for last time [in reference to getting drunk with 2 glasses of red wine.]
Source: China Times
Translated by o_ost1nao_o
Spoiler:

【2008/06/03 中國時報 】哀嚎10萬地毯毀了 小豬開啤酒趴遇地震

哀嚎10萬地毯毀了 小豬開啤酒趴遇地震

〔 2008.06.03 中國時報 〕

 ▲羅志祥以400萬酬勞擔任台啤代言人。

(張兆輝攝)

 小豬羅志祥2日以400萬酬勞擔任台啤代言人,他前晚扛了3箱玻璃瓶裝台啤回家與Party Boys邊烤肉邊暢飲,沒想到一個晚上遭遇兩大災難,先是午夜12點59分的地震,震倒桌上啤酒,毀了價值10萬的米白色長毛地毯,另一則是5樓住戶瓦斯外洩,逼得他連日洗冷水澡。

 禍不單行 休假連遇兩災難

 廣告代言接不完的小豬,難得一天休假在家中烤肉,沒想到有啤酒卻沒開瓶器,眾人為喝酒使盡各種招數,有人提議學電影《頭彩冤家》拿刀斬瓶口,古怪點子一一被他制止,當小鬼拿酒瓶準備撞桌角,眼尖的小豬立即賞他腦門一掌,要他別毀了昂貴家具。最後拿打火機開瓶成功。

 有潔癖 要求脫衣才能進屋

 眾人躺沙發上看電影,遇到3級地震,小豬眼睜睜看著酒瓶被震倒,酒精灑在地毯上,讓他哀嚎「完了!地毯很貴!」他坦承,自己有潔癖,不喜歡擁有的東西有瑕疵,曾經嫌Party Boys不乾淨,要求他們脫光衣服,穿著內褲才能進屋內,且他的睡床,除他之外,外人碰不得。

 連洗數天冷水澡 唉唉叫

 上周六,小豬脫光衣服進浴室洗澡,發現沒熱水,原來5樓住戶瓦斯外洩,且該戶鄰居外出度假無法修復,大樓瓦斯設備至今停用,陰雨天洗冷水澡讓他苦不堪言。

 小豬曾被蔡依林逼乾2杯紅酒,當場醉倒,如今代言啤酒,他強調喝啤酒是海量,且酒量還比蔡依林好,乘機扳回顏面。

[You must be registered and logged in to see this link.]
Last edited by o_ost1nao_o on Tue Jun 03, 2008 3:34 am; edited 1 time in total
__________________________________________
[You must be registered and logged in to see this image.]
"And he is the only person allowed to touch his bed, no one else."..lol wondering if its true!!! how about his gf??..hahha i feel sorrry for his carpet lol!! 100000 dolllars...wow!!

Killer_smile

Super Fan





Number of posts

: 205



HAHAHA:) THIS IS FUNNY:D i love it <33 DUDE..care about urself more than the carpet..rawr! andd..omg...no wonder he's sick....theres no HOT WATER! that 5th floor neighbor better fix it!! poor dude...AND AND AND PARTY BOYS:P HEHEE...they probably drank a lot that day XD

HEHE, killer_smile, i think gf will be an exception..ahem* especially yah..LOLS. I wont say more-_-" LOL.
__________________________________________
[You must be registered and logged in to see this image.]
he was a neat freak, requires Stripping Down Before Entering the House

Killer_smile
right his gf lols
vickie
: they holds Beer Party so that they certainly take advantage of an opportunity

omg ... Show have to cold shower on overcast, rainy days

Thanks
stina
so much

luoi87

Fan





Number of posts

: 118


Age

: 31


Location

: Ho Chi Minh City, Viet Nam



this article is adorable! im sorry for his carpet too, but its just funny
there an earthquake in taiwan? when was that?
how do u open a beer botle with lighter, im curious

ultranguik




Number of posts

: 4




---
Permissions in this forum:
You
cannot
reply to topics in this forum