SFC Update
201

3-

14 SFC Members

who

would like to access the SFC section for translations,
Please send a message to >>Admin<<
(

I

nclude : Full Name, SFC ID, SFC Username, Email)
Thank you!

201

2-

13 SFC Members

The DVD and Story Book translations are available on request, please contact Stina for info. Thanks!
------------------------------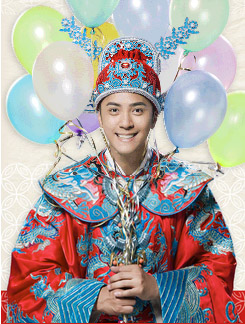 ------------------------------

------------------------------

1st Japanese Album
The SHOW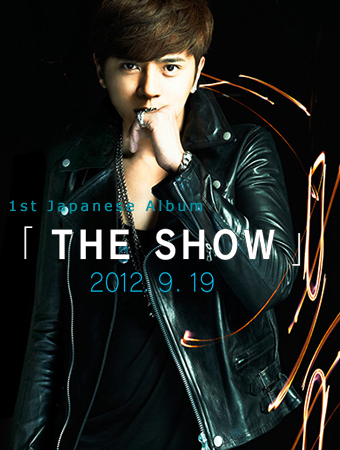 -------------------------------

In the entertainment business, there are a few idols, whom at the same time can sing, dance, host and be funny, "Xiao Zhu" Show Luo since his fame from debut, after years of ups and downs, Show won Most Popular Male artist for two consecutive years, and even nominated 3 times for Best Golden Bell Actor, this filial singer accepted" TVBS KanBanRenWu" interview said only once you lose the stage, you'll truly appreciate it.
Voted most popular male artist in Taiwan, also 3 times nominated for Golden Bells, this is what Show worked hard for many years, he's now known as Asia's Dancing King, funny attitude to idols, someday said, it's because of the support.
Show Luo: "Interaction is good, because they can feel the warmth, I think it pretty nice, I have added a lot of oil already (Jia You=Add oil or something like Good Luck but he meant good luck here ), in the parking lot, not funny (LOL, he's so cute when he's like this), thank you. "
How long will you line up for an idol's autograph session? This year's January 1, with 8 degrees Celsius, Show did not change his past styles, as long as people line up, he'll never stop signing. This year's autograph session lasted until 11:30 pm.
Show's good friend, Teacher Da Mu: "I feel when he was at his lowest point, only that time, he had the time to prepare a lot of things, when he was ready, he was ready to burst out again."
Since debut he already became an idol, Show Luo had been ups and downs of the textbook. 100% Entertainment producer Zhu Zhijie: "An artists is like this, he has his ups and downs, once he goes up, he goes down
In concerts, there were more than 10,000 watching, but before there used to be only 4, Show knows that the applause is only one part, he does not begrudge what his fans want and performs with warmth and enthusiasm, and his interactions with fans, always making it memorable. Show Luo: "My mother works very hard, she took care of my father for so long, mom you have to take care of yourself."
Although he had his first concert 12 years after debut, because he fell, he understood that the duck has to keep on swimming to become stable. Show's friend, Eddie Pan: "I always tell him that when you feel really tired, I put your head up, look at the people in front, everyone's heart is beside you, everyone is supporting you ."
The people's support, you have to give back, Show uses filial piety to repay his mother; Warmth to repay his diehard fans; Jokes to break the distance of an idol; and with those hundreds of performances, treasure the ones who support him, every minute and every second.
================================================================the other recently posted news Very Happy cuz you might not see it in latest posts

[You must be registered and logged in to see this link.]
Last edited by lollipopbbt<3show on Wed Feb 16, 2011 5:35 am; edited 1 time in total

lollipopbbt<3show

S.F.C. Family





Number of posts

: 1723


Location

: In Show's Heart...Philippines



AWWWWWWWWWWWWWWWWWW! This made me fall for him again.

He's such a heartwarming person. No wonder he's my idol, lol.

Jai You, SHOW! We're always here for you, supporting and loving you through your ups and downs!

<3
I saw that interview. Didn't understand it. Thanks for sharing!

We will always support Show Lo.


rawrr101

Fan Club Officer





Number of posts

: 568


Age

: 23


Location

: Philippines



Yeah.. He was so popular from now on.. Go on, SHOW!!!

2/18, We shall wait that!!!

claudz4lyf

Staff Member





Number of posts

: 909


Age

: 23


Location

: Camarin, North Caloocan City, Philippines



his the best! its bcause of his sincerity we love him sooooo much!!
JIAYOU!!

i love him so much and that love will never end nor lose..

) i will stay as his fan no matter what..

) he really worked hard and will work hard for everyone who idolizes him and everyone surrounding him..!!!
JIA YOU.....!!!
YOU CAN DO IT, WE KNOW YOU CAN..!!!

lzxslxz123

Staff Superior





Number of posts

: 1365


Age

: 20


Location

: Laguna,Philippines



AWW!!!!JIA YO SHOW!!!!!!!! WE WILL ALWAYS SUPPORT YOU!!!!!!!U MUST KEEP FIGHTING!!!!!AND BE HEALTHY!!!

Rita8D

Staff Superior





Number of posts

: 1174


Age

: 24


Location

: CA,USA FAR FAR AWAY FROM TAIWAN T_T



he has worked his way up to where he is now...
this shows just what a wonderful person he really is and that we made the right choice to support him...

Jia you luo zhi xiang!


yu_chun_shan

S.F.C. Family





Number of posts

: 808


Age

: 29


Location

: cebu, philippines



his determination, his love for his parents and for his fans, his kind heart... these are just few of the best things about Show, and every little thing about him makes me fall for him again... and again... and again!

jia you Xiao Zhu!

ahw.... so touching..
This year's autograph session lasted until 11:30 pm.
[i]
Wow.. let us support him no matter what.. GODBLESS always..

thanks for sharing


kaye_sjkk

Fan





Number of posts

: 146


Location

: Philippines,Cavite





Similar topics
---
Permissions in this forum:
You
cannot
reply to topics in this forum