SFC Update
201

3-

14 SFC Members

who

would like to access the SFC section for translations,
Please send a message to >>Admin<<
(

I

nclude : Full Name, SFC ID, SFC Username, Email)
Thank you!

201

2-

13 SFC Members

The DVD and Story Book translations are available on request, please contact Stina for info. Thanks!
------------------------------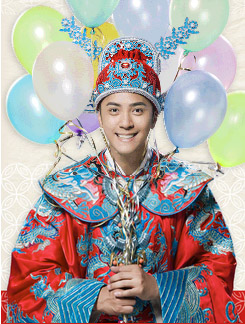 ------------------------------

------------------------------

1st Japanese Album
The SHOW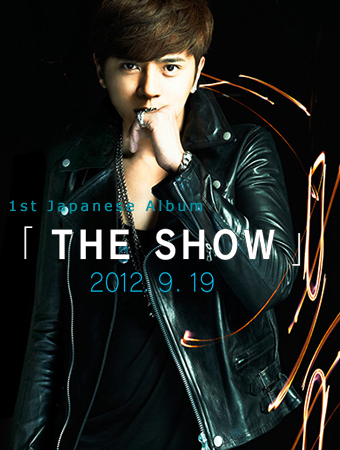 -------------------------------

Kisses Show Lo, Chun Wu Denies After Sobering Up
04/06/2008
[You must be registered and logged in to see this image.]
[caption:GTV's "Hot Shot" filming wrap up party, only Show (right) and Chun attend.]
[You must be registered and logged in to see this image.]
[caption:Chun (left) goes to forcefully kiss Show, chaos on the scene]
GTV'S "Hot Shot" held their wrap-up celebration a couple nights ago. After a few drinks, Director Lin He Long took the chance to criticize Jerry as "Overworking," Show "Xiao Zhu [Little Pig] Lo" as "Over confident," Chun Wu as "Still a sucks at Mandarin" and Coco Chiang as "Lacking a force forward."
This celebration party was missing big shot Jerry Yan. With words from manager Amy, Jerry was introduced a dentist by Show, and had already made an appointment 1 month back, and it happened to land on the same day as the party. The serious Jerry Yan wasn't there, so Chun Wu, Show Lo, Michael Change, Coco Chiang, George Hu, Chou Cai Shi etc. played crazily. Chun and Sho were even forced to play "tonsil hockey," but Chun Wu denied later, "How is it possible that I'd kiss him."
Lin He Long has a military style way of filming, he said that Chun Wu and Show Lo was the "Talk back Duo", "The two of them really like to talk back, Chun in 2nd place, Show in 1st." Show wasn't going to be outdone so immediately revealed a Lin He Long's embarrassing story. It turns out that when Show was holding an umbrella one time, and the director had yelled at him for being "girly." Show then couldn't help but nag, "You're the one sitting under a $5 million umbrella, isn't that even more girly?"
Sometimes Lin He Long would get really angry and toss the script, Show would the sarcastically said, "Don't you still have to go pick up the scrip again." Chun Wu isn't as articulate as SHow, but he knows to duck away, always coming and going, he laughed and said, "This way when the director is cursing, I can't hear it."
Lin He Long was talking about his views on all the actors, he said that Jerry tries too hard, and should relax a little; Show was still acting like "Chin Lang" From "Corner with Love" at first, but changed after a few pointers; Chun Wu's acting improved from that in "Romantic Princess" but his Mandarin is seriously bad.
Source: UDN
Translated by o_ost1nao_o
Spoiler:

【2008/04/06 聯合報】與小豬「喇舌」 吳尊酒後否認

【聯合報╱記者趙大智/台北報導】

[You must be registered and logged in to see this link.]

八大「籃球火」前晚辦殺青酒,導演林合隆黃湯下肚,藉酒意直批言承旭「過於努力」、小豬羅志祥「自信過度」、吳尊「國語還是爛」、蔣怡「沒有衝勁」。

這場殺青酒獨缺大牌言承旭,根據經紀人Amy說法,他透過小豬介紹了一個牙醫,1個月前就得掛號,剛好就是前晚排定看診。嚴肅的言承旭不在,吳尊、小豬、張勛傑、蔣怡、胡宇崴、周采詩等人還是玩得很瘋,吳尊和小豬甚至被拱「喇舌」,但吳尊事後卻否認:「怎麼可能去吻他。」

林合隆拍戲軍事化,他稱吳尊和小豬是「頂嘴二人組」:「他們兩個很愛跟我頂嘴,吳尊第2名的話,小豬就是第1名。」小豬也不甘示弱,立刻抖出林合隆糗事。原來有次小豬撐傘,被林合隆大罵「娘炮」,小豬忍不住碎碎唸:「你自己坐在五百萬大傘下,豈不更娘炮?」

有時林合隆發飆摔劇本,小豬也會說風涼話:「你還不是要把劇本再撿起來。」吳尊口才不像小豬便給,但他懂得閃躲,總是來匆匆去匆匆,他笑說:「這樣一來,導演罵再多髒話,我都聽不到。」

林合隆聊到對每位演員的看法,都頗一針見血,像言承旭,就覺得他太努力了,應該放輕鬆;小豬一開始還在演「轉角*遇到愛」裡的「秦朗」,經過指正才改變;吳尊演技比「公主小妹」進步,但國語實在太爛。

八大「籃球火」殺青,只有小豬(右)、吳尊到場。照片/八大提供

吳尊(左)跑去強吻小豬,場面失控。照片/八大提供
OMG.. the media lost thei heads X°°°D
thanks stina fo translation^^
i'm so happy that they're donee!!! =D
now they just have to put together and air it!
can't wait XP

Show then couldn't help but nag, "You're the one sitting under a $5 million umbrella, isn't that even more girly?" LOL. Show is oh SO FUNNY XD

..|dreeam|..

Super Fan





Number of posts

: 231


Location

: Toronto, Canada



HEHE:) i love that director. i mean, of course we gotta have Show's funni-ness too. HEHE, he's #1 in talking bak^_^
__________________________________________
[You must be registered and logged in to see this image.]
Thanks Stina for the trans!^^

chinesegiirl93

Staff Security





Number of posts

: 738



where he gets all this ideas?...
sometimes i wonder.
but cute(:

annakebana

Fan Family Member





Number of posts

: 399


Age

: 24


Location

: Singapore




---
Permissions in this forum:
You
cannot
reply to topics in this forum