SFC Update
201

3-

14 SFC Members

who

would like to access the SFC section for translations,
Please send a message to >>Admin<<
(

I

nclude : Full Name, SFC ID, SFC Username, Email)
Thank you!

201

2-

13 SFC Members

The DVD and Story Book translations are available on request, please contact Stina for info. Thanks!
------------------------------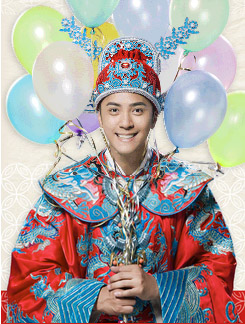 ------------------------------

------------------------------

1st Japanese Album
The SHOW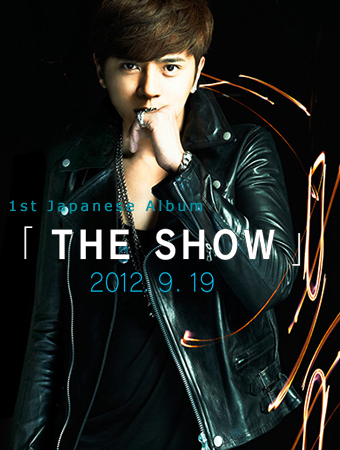 -------------------------------

Show Lo Endorses Potato Chips, Eats In $13 Million
03/25/2008
[You must be registered and logged in to see this link.]
[Caption: 3/24 3:06pm Show (Front) is afraid that the hardhat worker would steal his potato chips, so without caring about his image, he eats while running.
[You must be registered and logged in to see this link.]
[Caption: 2:57pm Show (Middle) breaks a sweat while running. Has assistant touch up his make-up during break time.]
Show "Xiao Zhu [Little Pig]" Lo boots off Lee Hom Wang and becomes the potato chip's new spokesperson, pocketing $13 million. Earlier yesterday, he was at Fujin Street very intently filming a chasing scene for a commercial. He dashed 100 meters about 10 times, drenched in sweat. He was recently asked by his manager to go on a diet, so was banned from snack foods. Yesterday he very provokingly said to his manager and laughed, "Heh Heh! I can finally openly munch on snacks.
Show Is Chased
Yesterday, Show played the role of a "Short Distance Champion," making him pant from exhaustion. After a short while, the filming venue was changed and the director changed it into a "Midair Flying Man" scenario, which allowed Show to return to his comical self. He also professionally ate potato chip after potato chip, carefully savoring each bite.
The temporary actor, playing the role of an "Electrician/Plumber" that suddenly with a monkey back flip, he flips in front of Show and steals his snacks. One "monkey" and one "pig" were chasing each other around. During break time, Show was making silly faces and joking around with the staff. After work, Show, who loves to be pretty, went to a spa for a facial and massage, enjoying himself.
Source: Apple Daily
Translated by o_st1nao_o
Spoiler:

【2008/03/25 蘋果日報】小豬代言洋芋片 吃進1300萬

[3/24 3:06pm 小豬(前)怕後面的工頭搶他的洋芋片,不顧形象邊跑邊吃。陳奕廷攝]

[2:57pm 小豬(中)跑得滿頭大汗,拍片空檔,助理趕緊上前幫他補妝。]

【特勤組、朱健弘╱台北報導】羅志祥(小豬)擠下王力宏,成為洋芋片廣告新1季代言人,約1300萬元酬勞進袋,他昨早在富錦街拍廣告格外賣力,一場追逐戲,他百米衝刺般狂奔近10次,跑得汗流浹背,他最近因拍戲被經紀人要求瘦身,被禁吃零食,他昨挑釁地對經紀人笑說:「嘿嘿!終於可以光明正大吃零食了。」

跑給臨時演員追
小豬昨一早扮演「短跑健將」,跑得他氣喘噓噓,沒多久劇組換場地,導演改玩「空中飛人」戲碼,讓他恢復搞笑本性,他還敬業地把吃了N遍的洋芋片拿起來細細品味。
一旁扮演「水電工」的臨時演員,突然來個猴子後空翻特技,一個觔斗跳到小豬面前欲跟他搶食,一「猴」一「豬」在廣場追逐起來,空檔還有閒情逸致跟工作人員擠眉弄眼地調笑,收工後,愛美的他還到SPA中心做臉、按摩,十分享受。
He got money again..he's become a rich man but why he alway talk about how to get money? hahaha he's so funny when i think about "hong bao" that he wanted.
oohh no.I think because he want to entertains us X°°D He doesn't think so much about money..
about the commercial..X°° I watched it.. It's AMAZING!!!!!!
Hello! I'm a new mem

nice to meet everyone
Show's a joker

I like him very much


luoi87

Fan





Number of posts

: 118


Age

: 30


Location

: Ho Chi Minh City, Viet Nam



He is a joker and entertianer who is excellent ,Lay may foresee that in him and arrive at get choose he is an agent in the lead presents.
He is best to presents the Lay' s ads...

Show haha he went to relax after the commerical

<3

chinesegiirl93

Staff Security





Number of posts

: 738



So happy he endorses such a big brand ! BIG Money before Rejoice, Pepsi, Mcdonald now again the 2nd commercial for Lays. He's very hot indeed.

Pipster

Freshie





Number of posts

: 59




---
Permissions in this forum:
You
cannot
reply to topics in this forum