SFC Update
201

3-

14 SFC Members

who

would like to access the SFC section for translations,
Please send a message to >>Admin<<
(

I

nclude : Full Name, SFC ID, SFC Username, Email)
Thank you!

201

2-

13 SFC Members

The DVD and Story Book translations are available on request, please contact Stina for info. Thanks!
------------------------------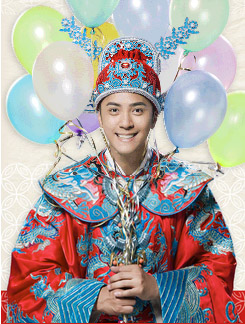 ------------------------------

------------------------------

1st Japanese Album
The SHOW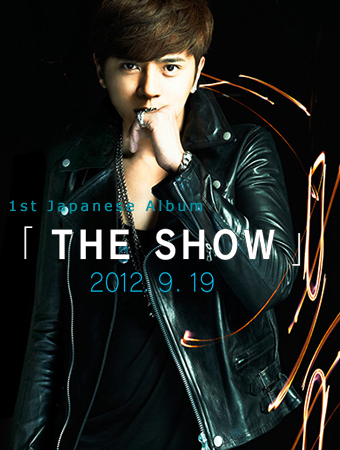 -------------------------------

Ten Million To Viciously Devour Potato Chips, Show Lo's Crunch Shakes Up Passerby
03/25/2008
[You must be registered and logged in to see this link.]
[caption: Show Lo films potato chip commercial, eats with all his life. Stunt man back flips with every bite.]
Bai Long Wang [White Dragon King] had Show stay way from girls, which really helped his career sky rocket recently. Yesterday he had replaced Stephanie Sun and Lee Hom Wang as the spokesperson for Lays'. Ten million dollars was swiftly pocketed. In a few days, Show will be heading out to Hong Kong, because he has been confirmed to replace Edison Chen as an addition to the "Pepsi Stars."
Breaking Out, Constant Make Up Touch Ups. Finding Time to Check at Teeth
Early morning on 3/24, Show first had gone to Taipei's Fuchin Street to film a potato chip commercial. Then in the afternoon, he went towards Chunghsiao East street to continue filming. Show and the stunt man were very intent in their participation. Show was eating away, while the stunt man was tumbling away, because the scenario required that whenever Show took a bit of the potato chip, the stunt man would be shaken so much that he'd do a flip. Show acted very intently, and then stunt man was breaking a sweat with his flipping.
During break, the pretty-prone Show took the time to look in the mirror and touch up his make up. Because he hadn't been getting adequate amounts of sleep recently, Show's face had started breaking out a little. He was afraid to have people find out, so he aggressively put on make up.
Casting The Toothache Aside, Taking the Chance to Happily Eat
Eating from 8 A.M. to 6 P.M., Show ate almost a whole box of potato chips. The reporter witnessed Show entertaining everyone and was playing happily, mightily making faces. Even though he had gone to the dentist earlier for a root canal, his mouth was still a little uncomfortable, but he was still eating gleefully, because besides staying away from food he was also "Food Banned" by his manager Xiao Shuang. Show has a body that easily gets fat, so he can't eat too much regularly. Earlier, Show and Chun Wu filmed "Hot Shot" together, and the two handsome fellows were privately in competition of "who was skinnier." Chun also taught Show to "Eat less amounts, but more meals. And no eating after 6 P.M.!"
Upcoming Flight To Hong Kong, Replacing Edison as Addition to Blue Blood Gang
It's said that Show Lo had easily earned more than $10 million for this commercial. In these couple of days, Show will be going to Hong Kong to attend the "Pepsi Star" press conference to be held on April 1st. After Edison Chen's racy photos scandal, it's been said that he was going to be expelled from the "Blue Blood Family," replacing him with Show Lo, but none of this has been proved. But the fact is, after the scandal, Show had immediately become the company's first person of choice. They also added two more "New bloods" Lee Jun-Ki and Huang Xiaoming.
As for Bai Long Wang's[White Dragon King] exhort of abstinence, Xiao Shuang said that Show definitely does not have a girlfriend at the moment, but the filial son will be taking some time to go on vacation in Hawaii with his mother.
Source: Liberty Times
Translated by o_ost1nao_o
Spoiler:

【2008/03/25 自由時報】千萬猛啃洋芋片 小豬?嚓一聲 震翻路人

■羅志祥拍洋芋片廣告拼命吃,每吃一片特技演員就要後空翻。(記者葛斯齊、陳冠備攝)]

記者陳冠備、林丞偉、葛斯齊/台北報導

白龍王要「小豬」羅志祥戒色,果然他最近事業一飛沖天,昨天他接替孫燕姿和王力宏代言的洋芋片廣告,1千萬順利入袋,這幾天,小豬也將飛香港,因為他己經確定取代陳冠希,將加入「百事之星」。

冒痘勤補妝 偷空看牙

3月24日一大早,小豬先到北市富錦街拍攝這支洋芋片廣告,中午再轉往忠孝東路的大街上繼續拍攝,小豬和特技演員賣力演出,只見他猛吃洋芋片,特技演員則是拚命在一旁翻跟斗,因為劇情的安排是小豬只要咬一口洋芋片,特技演員就會被震得後空翻,小豬演得很投入,特技演員則是翻得滿頭大汗!

中間休息的空檔,愛美的小豬趕緊照鏡子補妝,最近因為睡眠不足,小豬臉上冒了不少痘痘,他很怕被大家發現,因此拚命補妝。

牙痛擺一邊 藉機開心吃

從早上8點吃到傍晚6點,小豬至少吃掉快一箱的洋芋片,記者目擊小豬在現場「耍寶」玩得很開心,拚命擠眉弄眼,雖然之前他去牙科做根管治療,牙齒還是有一些不舒服,但他還是吃得很開心,因為除了要戒色之外,小豬還被經紀人小霜要求「戒吃」,因為小豬是易胖體質,平常就不能吃太多東西,之前他跟吳尊合作拍攝「籃球火」,兩大帥哥私底下一直在較量「誰比較瘦」,吳尊還教小豬「少量多餐,晚上6點以後禁食!」

近日飛港 頂冠希入藍血幫

據指出,這支廣告讓小豬輕鬆賺進1千萬以上的酬勞,這幾天,小豬也將前往香港出席4月1日舉行的「百事之星」記者會,陳冠希淫照風暴發生之後,外界曾傳出陳冠希將被踢出百事的「藍血家族」,改由羅志祥接替,但一直未獲證實,事實上,在風暴發生之後,小豬立刻成為廠商的第一人選。另外還會加入的兩位「新血」是李準基、黃曉明。

對於白龍王叮嚀戒色一事,小霜說,小豬目前的確是沒有時間交女朋友,但孝順的他,最近將抽空陪媽媽去夏威夷度假。

[You must be registered and logged in to see this link.]
Xiao zhu is very thin now and xiao shuang still want him to diet? OMG

Thanks stina for translating
For some reason..i don't like how they keep saying that Show will be "replacing" Edison..can't they just say he's joining? =S ..
i dunno how to explain what i'm thinking LOL...but i think it would make Show sound more special if they said he was joining and not just "replacing" someone.
Thanks for the update, stina!
Link to new commerical:
[You must be registered and logged in to see this link.]
credits to lennyzheng

..|dreeam|..

Super Fan





Number of posts

: 231


Location

: Toronto, Canada



Thanks for ur link

Thnks stina a lot


luoi87

Fan





Number of posts

: 118


Age

: 30


Location

: Ho Chi Minh City, Viet Nam



I love so much this commecial!!!
thanks dreeam for the link

Show looks cool in this commercial

n I love the pic at the end of the video.


teddybear

Freshie





Number of posts

: 58



you're all very welcome =P

and, teddybear ..
everytime i see ur avatar...can't stop staring! LOL <3

..|dreeam|..

Super Fan





Number of posts

: 231


Location

: Toronto, Canada



Thanks
stinaa!
for the trans

!
And
..|dreeam|..
for the commerical link!!

But I really don't why!?,,
I had a
dream about that show was in a commerical about chips!
haha x**D!!
I'm not lying.. promise! And no he is!<3

chinesegiirl93

Staff Security





Number of posts

: 738



yea, true, i agree with some ppl saying how the reports shouldn't say that Show is "replacing" edison chen.
Show is too good to be a replacement. and it's not because of edison dropping out that Show has a chance to join. He has proven to be worthy, reliable and a good spokesperson to have the honor to join the blue blood family =)

littlecutekitty

Fan Family Member





Number of posts

: 324


Age

: 29


Location

: Canada





Similar topics
---
Permissions in this forum:
You
cannot
reply to topics in this forum