SFC Update
201

3-

14 SFC Members

who

would like to access the SFC section for translations,
Please send a message to >>Admin<<
(

I

nclude : Full Name, SFC ID, SFC Username, Email)
Thank you!

201

2-

13 SFC Members

The DVD and Story Book translations are available on request, please contact Stina for info. Thanks!
------------------------------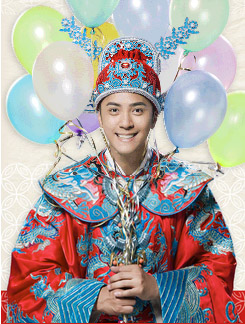 ------------------------------

------------------------------

1st Japanese Album
The SHOW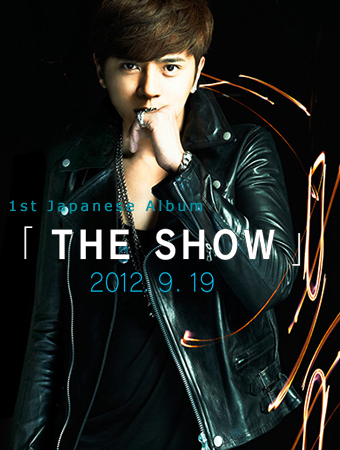 -------------------------------

Shanghai Performance: Jolin Tsai and Landy Wen Dance, KangYong and Xiao S Do Comedy
03/16/2008
Jolin Tsai, Landy Wen, and Show Lo --having these popular Taiwanese artists come together to hold a concert, has chance of slim to none, but last night (3/15), at a venue in Shanghai, a Taiwanese company sponsored a concert, gathering, for the first time, such big shots, which excited all of the fans in Shanghai. Because the time of the event was so close to the Taiwan election time, some people believed that it was an overseas election promotion.
Jolin Tsai sang : "Wo yao song ni ri bu luo de xiang nian, ji chu dai biao ai de ming xin pian, wo yao song ni ri bu lo de ai lian, xin qian zhe xin ba shi jie zou bian, ni jiu shi qing dian, ni jiu shi qing tian, wo de ai wei mia, bu luo de xiang nian, fei zai ni shen bian, wo de ai wei mian...."
[note: this is just the lyrics to "Ri Bu Luo - Sun Will Never Set"]
Jolin Tsai, as the closer, had brought the atmosphere to another climax, and the acclaimed Dance Queen Landy Wen also displayed her wild beauty.
A string of moving music and dance had Shanghai's 80,000 arena in a frenzy, and the thing that was most favored was KangYong Tsai and Dee "Xiao S" Hsu's duo hosting.
Xiao S : If you saw Rainie Yang, Jolin Tsai, and Xiao S.
Who would you click on ?
[note: If they each had blogs per se.]
Show Lo: I'd click on you!
Xiao S: Click on me?
Show: You're so hot!
Xiao S: You even want a mother?
Show: That's okay.
KangYong laughs: Your[Xiao S] husband is in the audience.
Xiao S pretends: "Who? Who? I'm married?"
The most special part of this was how the concert was titled "A Grateful Heart." It's rare to have a Taiwanese sponsor and have them organizing everything, and it also happened to be the sensitive election time. It's hard not to have some people believe that it's to heighten the election spirit. The general secretary laughed and said, "There's not one person that had said anything, and I believe that this will not have anything to do with the Taiwan elections, none. You can observe, that from the beginning it was a concert.
To the fans, a concert where they could enjoy the music and dance from so many Taiwanese popular artists, is more valuable than anything else.
Source: ETtoday
Translated by o_ost1nao_o
Spoiler:

【2008/03/16 東森新聞網】上海台商辦演唱會 蔡依林溫嵐動感 康永小S搞笑(提show)

[You must be registered and logged in to see this link.]

記者李登文、張俊忠/上海報導

蔡依林、溫嵐、羅志祥,這些台灣當紅的歌星,能在一起辦演唱會,真的很不容易,昨天(15日)晚上在上海一場由台商協會破天荒主辦的演唱會,一次齊聚這麼多大牌,high翻上海歌迷,由於距離台灣總統大選時間很近,也有人認為這是為隔海為馬蕭選情加溫。

蔡依林唱著:「我要送你日不落的想念,寄出代表愛的明信片,我要送你日不落的愛戀,心牽著心把世界走遍,你就是慶典,你就是晴天,我的愛未眠,不落的想念,飛在你身邊,我的愛未眠……」壓軸演出的蔡依林,把全場氣氛帶到最高潮,號稱動感天后的溫嵐,更展現了野性美。

]

一連串勁歌熱舞,high翻上海8萬人體育場,帶給觀眾歡樂不斷的,則是蔡康永和小S這一對主持搭檔。

羅志祥說:「你看到楊丞琳、蔡依林跟小S。」

小S說:「你會點誰?」

羅志祥說:「我會點妳啊!」

小S說:「點我?」

羅志祥說:「妳這麼正!」

小S說:「你連媽媽也要?」

羅志祥說:「真的啊。」

小S說:「我結了婚了耶。」

羅志祥說:「OK的。」

蔡康永大笑:「妳老公在台下耶。」

小S裝蒜:「誰誰?我結過婚嗎?」

最特別的是這一場名為「感恩之心」的演唱會,罕見的由台商主辦,而且還規劃台商座位區,正值選舉敏感時刻,不免有人聯想這是否要為選情加溫。台協秘書長陸笑炎說:「沒有任何一個人講話,也不會有,我相信也不會有跟這個台灣選舉有關的活動安插,都沒有,你可以看到,一開始就是演唱會。」

對於上海的歌迷而言,一場演唱會能欣賞到這麼多台灣當紅藝人的歌藝舞技,比甚麼都值得。
LOL! the concert sounds really fun... sighs. why aren't I there?!

Gibberish.

Freshie





Number of posts

: 51


Age

: 23


Location

: Singapore!



yeah.. hei anyone knows if there are already some videos about the concert??
can't wait to watch the clip from this event !
me too! i wanna watch! do leave the link if anyone has it, ya? (x

xSHILIN

Fan





Number of posts

: 112


Age

: 26


Location

: singapore(:



the concert sounded so great. *envies those who were there*
hahahahaha


drivewayromance

Fan





Number of posts

: 101




---
Permissions in this forum:
You
cannot
reply to topics in this forum