SFC Update
201

3-

14 SFC Members

who

would like to access the SFC section for translations,
Please send a message to >>Admin<<
(

I

nclude : Full Name, SFC ID, SFC Username, Email)
Thank you!

201

2-

13 SFC Members

The DVD and Story Book translations are available on request, please contact Stina for info. Thanks!
------------------------------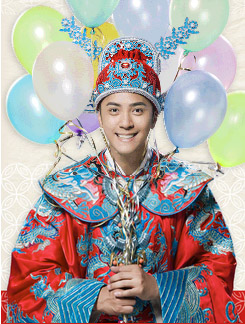 ------------------------------

------------------------------

1st Japanese Album
The SHOW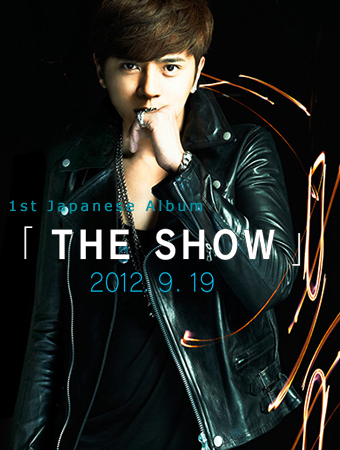 -------------------------------

For Fans, He misses Awards Ceremony : Show Finishes Marathon-esque Autograph Session
01/26/2010
Show "Xiao Zhu (Little Pig)" Lo released his new album "Rashomon," selling over 90,000 copies in a short 2 weeks. Two days ago, he held a sign-sing function in Shimen Ting, attracting thousands of fans. There was a mid-aged female fan who really likes Show's character "Hsueh Hai" in "Hi My Sweetheart," and bought 3,000 copies of his albums to give to her staff. He signed late into the night, his staff kept telling Show, "Later on, in the future, besides midnight snacks (at the autograph session), you'll probably have to treat us to some breakfast too."
Show had originally planned on attending the KKBox Awards Ceremony, but he signed over 10,000 copies, and completing his 12-hour "Self-mutilating, Marathon-esque Autographing Event" at 1:30 AM. Worried that he might not be able to make it, Show chose to miss the ceremony, "Even though the awards ceremony is important, but fans are more important." With reigniting rumors of "Double J Love," as Jolin's friend, Show expressed that he wasn't clear of the situation, but he doesn't think that "Double J" will be revived, if there's a chance, he'll ask Jolin.
Show Lo and Rainie's "Hi My Sweetheart" will be airing its grand finale next week. Fans were disappointed in the earlier ending, and went online to help speak up for their idol. Show said, "Everyone from director to production crew to cast all put lots of effort into filming, the ratings are good too, I think doing this is a little unfair to everyone." Show played cute acting pathetic, saying, "Why is it like that! :["
Source: WenWei Po
Translated by o_ost1nao_o @ love4show
Spoiler:

【2010/1/26 文匯報】為歌迷缺席頒獎禮 小豬完成馬拉松式簽名

小豬羅志祥推出新專輯《羅生門》,僅僅2周銷量便突破9萬張,日前他在西門町辦簽唱會,吸引數千歌迷捧場,有師奶粉絲喜歡小豬在偶像劇《海派甜心》中飾演的「薛海」,直接包下3千張專輯送給員工。簽名直到深夜,工作人員紛紛開口跟小豬說:「以後除了宵夜之外,你可能還要請我們吃早餐。」

 原先參加了「KK BOX」頒獎禮的小豬,因簽唱會共簽了近萬張專輯,忙到凌晨1點半才結束12小時的「馬拉松自虐式簽名活動」,擔心趕不上典禮,小豬選擇缺席,「雖然典禮很重要,但歌迷更重要。」有傳「雙J戀」重燃,小豬身為Jolin的好友,表示對此事不清楚,但他認為「雙J」不可能復合,有機會會再問Jolin。

[You must be registered and logged in to see this link.]

 小豬和楊丞琳主演的《海派甜心》,下周將播出大結局,粉絲不滿播出時間提前結束,上網為偶像發言,小豬說:「從導演到劇組、演員,都很盡心投入拍攝,收視率也很好,我覺得這樣做對大家有些不公平。」小豬還扮可憐說「為什麼要這樣!」
__________________________________________
[You must be registered and logged in to see this image.]
Thanks for the translation,
stina
!!! I'll post it up on AF.


endlessjoy

Fan Family Member





Number of posts

: 415


Location

: Washington, USA



lol. so even though the article is about show, the media didnt miss on asking something about double j. haha.
__________________________________________
he really miss that awards..but fans are really important ohhh....so touching love soooo much even he was not attending he will still received that awards..

yah so sad hi my sweetheart will end soon why its like that its to short..im gonna miss da lung/hsueh ...


miakaloveshow

Stage Hands





Number of posts

: 1555


Age

: 39




alyanna

Super Fan





Number of posts

: 212


Age

: 21


Location

: Philippines



" FANS ARE THE MOST IMPORTANT "
-- woohh!~
show is very loving
[You must be registered and logged in to see this image.]
I hope that they have a sequal for "hi my sweetheart". The story line was really good and show really good at acting his character Lin Da Lung

megaman624705




Number of posts

: 1



so not surprising he would do this...signing so late. he always does. show's just amazing to his fans.

i hate CTS right now. that's all i can say.

lolz, they STILL ask him about double J. he's sick of it, haha.

POGA

Stage Hands





Number of posts

: 2037


Location

: CA, USA



That's why.
Media is so sneaky, one mistake made, they would remember forever and never stop asking until it is fully revealed.
Haizz, that is media.

annakebana

Fan Family Member





Number of posts

: 399


Age

: 24


Location

: Singapore



That is so sweet of him...

Xiao_Zhu_Forever

Fan Family Member





Number of posts

: 438


Age

: 24


Location

: Boston Massachusetts




---
Permissions in this forum:
You
cannot
reply to topics in this forum