SFC Update
201

3-

14 SFC Members

who

would like to access the SFC section for translations,
Please send a message to >>Admin<<
(

I

nclude : Full Name, SFC ID, SFC Username, Email)
Thank you!

201

2-

13 SFC Members

The DVD and Story Book translations are available on request, please contact Stina for info. Thanks!
------------------------------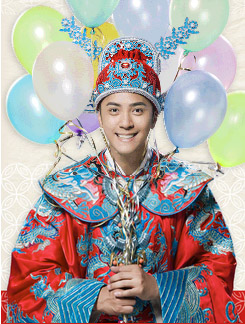 ------------------------------

------------------------------

1st Japanese Album
The SHOW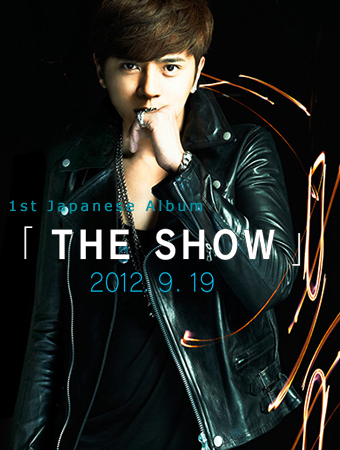 -------------------------------

Basketball Drama, Slams Hard, Show Lo Becomes a "Wooden Man"
03/14/2008
[You must be registered and logged in to see this image.]
Two days ago, when Show "Xiao Zhu [Little Pig]" Lo was filming GTV's idol drama, "Hot Shot" he had slammed into another basketball player, and suddenly his body became stiff and numb. At that time, he painfully yelped, "Stop, Stop, Stop. I can't move my neck!" It scared his manager and staff so much that they immediately went to his aide, and constantly sprayed muscle relaxants on his neck. Everyone just came together and helped to massage him. The filming crew halted the filming process for half an hour.
Afterwards, Show said that he, for a moment, had thought that he was paralyzed, and was scared to death.
Show had witnessed first-hand, a basketball teammate whose had something similar happen to him. He couldn't move his body, and then he was hoisted into an ambulance. At the time, everyone was fighting to massage that teammate, but the situation seemed counterproductive, so when Show became a "wooden man" for a little moment and was being massaged, he was uneasy, not knowing if that was the right thing to do.
Ever since Show started filming "Hot Shot" his head, his legs, and his wrists have been injured. Besides the TV casts original insurance plan, his management had especially bought another accident insurance plan.
Besides this, Show also finally, as he had wished, became a member of the "Blue Blood Family." Pepsi officially announced that on April 1st, there will be a "Pepsi Family AsiaWorld-Expo Celebrity Round Up" in Hong Kong. Show is one of the three new Pepsi Superstars.
Good friend Jolin Tsai jokingly said, "Show has finally become a Pepsi Superstar, as your senior, I will give you a few good pointers, Heh heh.. You'll see on April 1st."
Source: UDN
Translated by o_ost1nao_o
Spoiler:

【2008/03/14 聯合報】籃球戲猛撞 小豬變木頭人

【聯合報╱記者褚姵君、傅繼瑩/台北報導】

[You must be registered and logged in to see this link.]

小豬拍「籃球火」發生衝撞意外,變成「木頭人」。

照片/八大提供

「小豬」羅志祥前兩天拍八大偶像劇「籃球火」時因遭到劇中對手球員衝撞,身體突然僵麻,他當場痛苦哀叫:「停停停,我脖子不能動了啦!」嚇得經紀人與工作人員火速上前,狂在他脖子上噴肌肉放鬆劑,眾人並七手八腳地幫他按摩,劇組因此暫停拍攝半小時。

小豬事後說,他一度以為自己癱瘓了,嚇得半死。

小豬曾親眼目睹球友發生類似的狀況,身體不能動彈,最後被抬上救護車,而當時大家也搶著幫那位球友按摩,情況卻適得其反,所以一時成為「木頭人」的他被按摩時,心中很忐忑,不知道這樣做到底對不對。

「籃球火」小豬拍攝以來,頭部、腳部以及手腕都發生運動傷害,除了劇組固定保險,經紀公司特別為他加保了1億元的意外險。

此外,羅志祥終於如願成為「藍血家族」一員,百事正式公布4月1日將在香港舉行「百事家族亞洲博覽群星匯」,小豬將是正式加盟的3位全新百事巨星之一。

好友Jolin開玩笑表示:「小豬終於成為百事巨星了,我身為前輩會好好指導你的,呵呵,4月1日你就知道了。」
aaa...... I was so sad when I read and watch this news....

I felt to cry..I don't know...
yeha me too...i feel so sorry for him...so much things on him rite now...she should take some rest~~

Killer_smile

Super Fan





Number of posts

: 205



god Show, just rest will you?! Luckily he's fine, though


Gibberish.

Freshie





Number of posts

: 51


Age

: 23


Location

: Singapore!



Phew! Good thing he is alright, felt so scared for that moment :/

drivewayromance

Fan





Number of posts

: 101



Dearest Xiao Zhu... pls promise to take care of yourself k... dun let luo mama worry... hugs


showrie




Number of posts

: 3


Location

: Singapore



First time i heard about this i was like ' what happened to him?' Is he ok? He looked so painful but after that i saw he was ok that made me happy ^^
Awoh this bad news
However, he indicates that the show luo hero can face all the risks
As further evidence of his love for the good work
This is good
Hamdallah your you show luo
I hope that does not hit anything wrong again
Thank you to my friend on this information and translation
Thanks.
^_^


Similar topics
---
Permissions in this forum:
You
cannot
reply to topics in this forum