SFC Update
201

3-

14 SFC Members

who

would like to access the SFC section for translations,
Please send a message to >>Admin<<
(

I

nclude : Full Name, SFC ID, SFC Username, Email)
Thank you!

201

2-

13 SFC Members

The DVD and Story Book translations are available on request, please contact Stina for info. Thanks!
------------------------------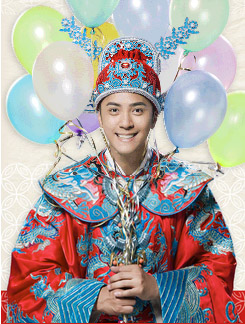 ------------------------------

------------------------------

1st Japanese Album
The SHOW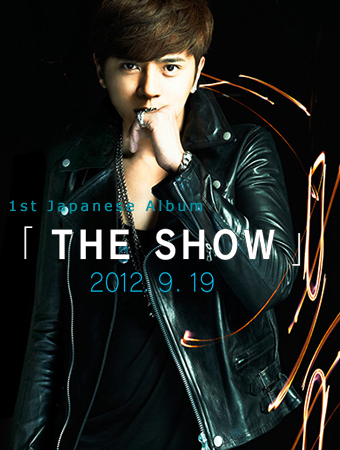 -------------------------------

Sweetheart" Attacks the Chest; Wet Piggy Strikes Out Bulging ----- Lee Wei Follows Rescue Mouth to Mouth, Very Generous



Source: Liberty Times
Translation: endlessjoy @ Asianfanatics.net

Show Luo (Xiao Zhu) and Rainie Yang is filming CTS idol drama <Hi My Sweetheart>, and as the filming gets closer to an end, their relationship is getting closer and topics for discussion is getting spicier. Yesterday, this drama filmed a scene of Show in the water and Rainie bravely rescues him. In the urgent situation, she held onto Show's right chest; her hands even moved around his nipples. Rainie said, "Ah, it's very bulgy, very hard!" However, she later explained that it's due to the cold water.

<Hi My Sweetheart> was in Zhu Dong to film a scene of Show in the water and Rainie jumps in to rescue him. Show admits that he has mysophobia. The lake's water looks clear but has an extremely foul odor. He is like taking a bath in dirty water, and because when he fell in he had a couple gulps of water, he ended up throwing up after coming back on land. He kept on rinsing his mouth and can't stand his whole body to be so dirty.

In <Hi My Sweetheart>, Rainie is the "mean girl." She openly admits that she's too much into the character. Off-screen, she stills glares at Show and is very mean when speaking to him; though, she still thinks he's very handsome. As they filmed this drama, their relationship has progressed a lot and when filming kissing scenes, sparks show up. Fans even left messages on Rainie's blog, apologizing to Rainie's ex-boyfriend, Alien Huang (Xiao Gui), saying "We think Rainie and Show is a better match as a couple!"

One water scene, Lee Wei becomes very fortunate. To save Show, he has to perform CPR on him, creating a "male-male kiss." He has never kissed a guy before and the director shouted "Please enjoy." He tightened up, closed his eyes shut and did it. His expression was so funny that Rainie laughed saying, "Lee Wei is in such pain that lines on his face exploded out!" After "kissing" Show, Lee Wei was asked what it felt like, and he said, "That sense of touch, the taste wasn't bad. He drank some lake water, but I didn't smell any weird smell."
__________________________________________
lol. is this episode airing soon? i think xiao zhu was a bit embarrased about being held by rainie on and rainie commented on it. lol.
__________________________________________
this epi should be a long more time. i'm sure he is already hsueh hai during this scene. we would just have to wait which would be something really hard to do.

sze92

Staff Member





Number of posts

: 982


Age

: 25


Location

: Adelaide, Australia



Haha

I would really want to watch the male-male kissing scene.
It should be very funny!

annakebana

Fan Family Member





Number of posts

: 399


Age

: 24


Location

: Singapore



lol!i wanna see this scene too...two handsome guys "kissing"...i mean lee wei giving cpr to SHOW LO...

why does SHOW have many scenes in the lake drowning?he's like drinking a lot of lake water during their filming...

and he threw up again...poor SHOW LO...hope he takes good care of himself....
iloveyou SHOW!!!
xiaozhu forever XD

kriztetalovesxioazhu

Staff Security





Number of posts

: 719


Location

: California,USA



Thanks for sharing

Eww, dirty lake water? The things an actor must go through...

LOL about Lee Wei...his reaction sounds kinda of like a girl

Spoiler:

Um, isn't the date of the article supposed to be 11/21? Correct me if I'm wrong
Why Show need to jump on that lake they can swimming pool for that

lee wei he was so generous too hahaha..like him too..that was really exciting episodes..i want to watch it..i agree with you rainie Show was really handsome even he was disguise as Da Lung..and much hotter when he become hsueh hai...


miakaloveshow

Stage Hands





Number of posts

: 1555


Age

: 39



I still think that xiao gui and rainie is still better, although xiao zhu and rainie is also good. NO OFFENCE! ><

stuipid445

Fan Family Member





Number of posts

: 343


Age

: 22


Location

: Singapore




---
Permissions in this forum:
You
cannot
reply to topics in this forum