SFC Update
201

3-

14 SFC Members

who

would like to access the SFC section for translations,
Please send a message to >>Admin<<
(

I

nclude : Full Name, SFC ID, SFC Username, Email)
Thank you!

201

2-

13 SFC Members

The DVD and Story Book translations are available on request, please contact Stina for info. Thanks!
------------------------------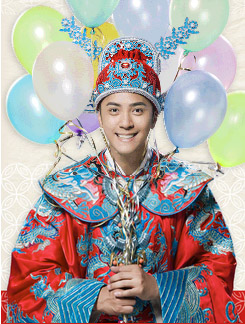 ------------------------------

------------------------------

1st Japanese Album
The SHOW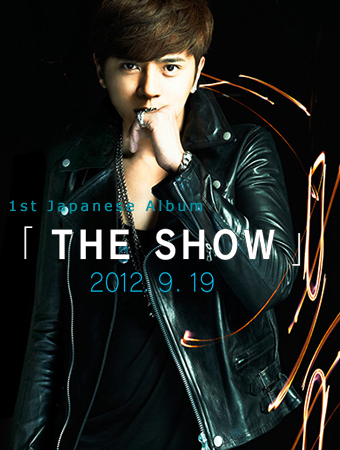 -------------------------------

Source: Mingpao
Translation: applejuice @
[You must be registered and logged in to see this link.]
Idol drama "Calling For Love" acted by Mike He can't broadcast at time, the producer of the drama, Angie Cai said "I feel sorry towards Mike".
Two years with no drama broadcasted at Taiwan. Mike thought that this time he refresh the memory of audience towards him, however, the drama still can't get the approval from Mainland. The four day promotion for the drama all become unsed, Mike can be said he was hurt. "CFL" broadcasted date was delay, and it was replaced by Show Luo and Rainie Yang drama "Shanghai Sweetheart".
This time, for the airing of "CFL", Mike went for varies promotion event. When he attended Taiwan tv festival as the spokesman, he not forget to remind his fans to support his drama. Since he was long disappeared from tv screen, he really look forward to the airing of CFL.
Since 2007, after the Bull Fighting, Mike finally get the chance to go back to tv screen, and recently he get the news that his drama was replaced due to the Mainland approval.
This time, Mike was giving 100% effort to the promotion of CFL. In order to fix the time of promotion with Chralene's schedule, in four days time, they have a nonstop promotion, including attending CTS show "Genius Go Go Go" and "Power Sunday", Tong Fong "Azio Entertainment" and GTV "Yu Le Bai Fen Bai". Now, "CFL" can't broadcast at time, the four days hard work was wasted.
Mike He frankly expressed his feeling "After Bull Fighting, I accepted Angie Cai's Mainland project, but haven't broadcast at Taiwan. After knowing CFL was going to air at Taiwan, I feel very happy. I didn't think that it can't broadcast at time."
"After knowing it, my heart slightly will be affected". Mike said "think from another angle, since the things happened, we need to face it. Good things happen after problem is solve (It is a Chinese phrases, roughly translate). We need to face be optimistic." Mike's manager said that for an actor, they can only seriously act out the character. Whether the drama wants to air or not, they can control it."We can only say to the fans, please support Mike till the future."
Mike's manager said that although CFL can't broadcast at time, it does not affect Mike's future work. "Before this, he has gone to Beijing to accept the interview from the media and attending show. This is for the promotion of his movie "Falling in love with you in seventh days". As an actor they can't control of everything, but they can give their full effort to do it."
Heard that Mike get hurt due to the delayed of "CFL", producer Angie Cai said "I am sorry towards Mike, for the whole year, he didn't appear in tv screen. I really feel sorry towards him." After that, she started to promote her new project. "CFL and Shanghai sweetheart are two different dramas. The role in CFL, you will love it since you started to watch. For Shanghai sweetheart, Show Luo outfit was different. I have confidence towards this two dramas."
Actually, "CFL" has decided to broadcast at July this year, but due to the broadcast permit, it was delayed to 18 October. This is the second time it gets delay. Many fans started to bombarded the CTS website.
About the fans's reaction, CTS felt helpless. The spokesperson said "We all are very anticipated for the airing of every drama. Just for the promotion and advertisement, we have spend about2 to 3 million. Since it can't broadcast at time, we all also feel helpless."
CTS also said that after the airing time was known, many fans who supported "CFL" and they have planned to come for CFL conferences. Some of the fans are from Hong Kong, Singapore, Malaysia, etc. "They have such an overwhelming respond, and scolded us, we
__________________________________________
Thanks for the article

Never knew it was 2nd time that CFL got delayed...they should have just gone ahead and let it air later than it was supposed to because Shanghai Sweetheart can't get them back the 2 weeks they'll miss anyway...sigh
But why does the article cut off at the end?
I feel sorry for Mike He..but thats the way it is

he got all delay and wasting money for promoting it..but good thing Show Luo "Shanghai Sweetheart was there to fill up....support Show what ever it is..


miakaloveshow

Stage Hands





Number of posts

: 1555


Age

: 39



thanks for the news! oh~ the article cut off at the end. :]

ka1020

Fan Family Member





Number of posts

: 404


Age

: 23


Location

: Manila, Philippines



yea, the good news is that we get to see Show's drama more early now =D
oh mike, suck it up. i like you, but i think i've just seen too many of his dramas lol. i wanna see Show in more dramas, esp as the role of the BF since in hot shot, he was only the friend.
i think Shanghai Sweethearts start broadcasting during my midterms XD FML ._.;;

littlecutekitty

Fan Family Member





Number of posts

: 324


Age

: 29


Location

: Canada



ahh...poor mike he..but show luo fans like us will be happy!

megan_702

Super Fan





Number of posts

: 246


Age

: 22


Location

: USA



i feel sorry for Mike, but i think its not his time yet.

__________________________________________

---
Permissions in this forum:
You
cannot
reply to topics in this forum