SFC Update
201

3-

14 SFC Members

who

would like to access the SFC section for translations,
Please send a message to >>Admin<<
(

I

nclude : Full Name, SFC ID, SFC Username, Email)
Thank you!

201

2-

13 SFC Members

The DVD and Story Book translations are available on request, please contact Stina for info. Thanks!
------------------------------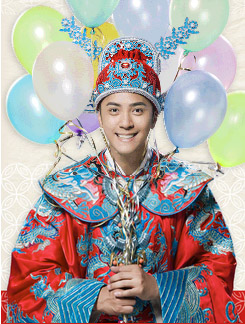 ------------------------------

------------------------------

1st Japanese Album
The SHOW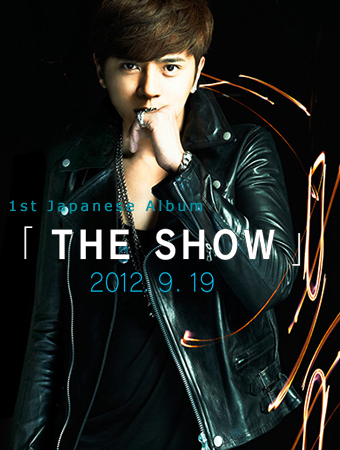 -------------------------------

Personal Interview ------ Show Lo: Xiao Zhu Doesn't Surrender
02/28/2008
The Show Lo in many people's eyes is definitely the idol singer who is "made in Taiwan." A dancer, idol singer, actor, variety show host, these many identities have people befuddled. But through this interview, true, sincere, hard working, with a little big of sass, is the impression that Show has left with the reporter. Show revealed, "Most people's roads are very straight, and at most with some ups and downs.....but I've discovered that mine is curved, so curved that I have no choice. I can only choose to work even harder, until I've returned to the next corner." This is probably what lots of idol singers have in common
Show Lo Has an Ambitious Heart
Question
: What do you feel is the reason for your success? Does looking good have an effect?
Show Lo
: It's like the message that all of Xiao Zhu's albums convey, Xiao Zhu doesn't surrender and is ambitious.
I've been through a low period in my life, days were like years, and I think why it was this way. At the time I had the strong urge to give up, but I couldn't give up for 2 reasons. One was because of my family. Our neighbors would ask my father, why his son hadn't had any accomplishments, that he was very ordinary in the entertainment business. My father was respond that it wasn't true, and that I was very good. My father would always help me tie it up, but he would be upset, because his own child was being criticized by neighbors. My mother would also tell me, your dad isn't too happy today. Firstly it's for my father, my family. And secondly it's for my fans. Before, my fans didn't really dare share that their idol was Show Lo, they felt it was a embarrassing, so they didn't want to speak of me, so I felt a little pathetic. When I was performing, when there were other performers at the event, my fans would scream to cheer me on, but when the fans down in front weren't my fans, they'd ask why it was me. I hope that my fans can proudly share that their idol is Show Lo.
Speaking of looks, lots of people say that "Xiao Zhu" looks like Aaron Kwok etc etc. I'm very happy, these many celebrities, with handsome exteriors can be compared with my own. But I just have one thing to say, they are all more handsome than I am. Supporters of them, would beg to differ, Show is so ugly, why would he look like him? So I'm grateful for many friends that admire my exterior.
Question
: There is media out there that say that your popular is "stamped with a 'Made in Taiwan' seal," do you also agree that your popularity in the Mainland is due to the time when Taiwanese variety shows had overwhelmed the Mainland media?
Show Lo
: Whatever you'd like to say, but I think I have to thank the producer of "Yu Le Bai Fen Bai [100% Entertainment]." At my lowest period, he invited me to host the show, and thought very highly of me. I also want to thank him for giving me such a good stage to perform on, to let me develop endlessly, without limiting me. So I like being on the show, speaking, learning, playing, singing, and performing for everyone to watch. Some people would ask me if I could do an imitation sequence. I'd tell them to watch "Yu Le Bai Fen Bai," only on that show they'd be able to see me, imitating anyone, whereas on other shows you won't see that. So this is a very precious show.
Entertainers Should Do Everything
Question
: Why are you participating in this time's "Kang Xi Lai Le [Here Comes Kang Xi]" Live Show? Aren't you afraid of being ambushed by the hosts?
Show Lo
: I feel that this performance is very meaningful. You ask me whether or not I'm afraid. I'm afraid. Did you know that Dee "Xiao S" Hsu is my natural enemy? Every time I encounter her, I lose my way. She dares to ask questions that other people wouldn't dare ask. I have to think of something to counter her, but there should be many of my fans there, it would be a lot better than being in a filming studio.
Question
: What's the reason that allows you to simultaneously progress in different fields?
Show Lo
: Actually, I came into the entertainment business as a boy band, "Four Heavenly Kings," and when "Romeo" disbanded is when I became "Show Lo." Because of my hosting shows, people recognized my silliness. As for singing, acting and host, I like them all. I don't prefer on over the other because I feel that as an entertainer, you should do everything, this way the audience will feel that they can see different performances of Show Lo.
Question
: If right now you could only choose one of the careers from the ones you have now as the career for the rest of your life, how would you choose?
Show Lo
: I've already said, that actually I enjoy all three of my jobs. It's because these three jobs attract a different audience. Some people don't necessarily watch my hosting or like my singing, so I have to cater to my different audiences. So I like all three, I wouldn't give up on any one.
Family is My Achilles' Heel [weakness]
Question
: There is information here saying that you've done a lot of charity work, can you talk about your view on charity? In the Taiwanese entertainment industry, are there lots of people that are passionate about charity?
Show Lo
: Lots of people say that charity is for getting yourself a good name, but I feel that we really want people to go out and do more good deeds. Spreading love is team work. In Taiwan there are lots of people hold this ideal, Jolin Tsai, Patty Hou etc etc, also do a lot [of charity].
Question
: What do you believe is "Success" and "Fortune" ?
Show Lo
: I feel that up until now, I've been very happy, because I'm not a greedy person. I feel that I have so many friends supporting me, and if I'm not content, what could I do anyway? Since there are so many friends in different areas supporting me, I should feel very fortunate and happy, so I always try my best to hold meet-and-greets, or some performances, so I can see everyone, and then interact with them more closely.
Question
: What's your biggest wish? What is the goal of your life?
Show Lo
: I hope that my mother's health will get better and better, I can't withstand it, family is my Achilles' Heel
[weakness]
. There's a song that goes, Shi Shang Zhi You Ma Ma Ma Hao, You Ma De Hai Zi Xiang Kuai Bao [Only mothers are good in the world, a child with a mother is like treaure]. As for my life's goal, I want to continue to use my own two hands to accomplish things for myself.
Source: East Day
Translated by o_ost1nao_o
Spoiler:

【2008/2/28東方網】媚小貓的人物專訪-----羅志祥:小豬是不服輸的

很 多人眼中的羅志祥,無非是打上"台灣製造"烙印的偶像型歌手。舞者,偶像歌手,演員,綜藝節目主持人,諸多身份令人眼花繚亂。但通過本次採訪,真實、誠 懇、努力、略帶頑皮,是小豬留給記者的最深印象。小豬坦言:"大多數人的路都很直,然後最多在那條路上有些起起伏伏……而我發現自己的路是彎的,彎到我無 法選擇,於是我只能選擇更努力的,直到我又回到了,下一個轉角。"這可能便是所有偶像型明星共同的癥結。

小豬是有企圖心的

媚小貓:你覺得你成功主要原因是什麼?外形起到的作用有多大?

羅志祥:就像是小豬在每張專輯傳遞的觀念,小豬是不服輸的,是有企圖心的。

曾 經我經歷了一段低潮期,度日如年,想怎麼會這樣,那時候有一個衝動想要放棄。但我不可以放棄,有兩個原因,一個是家裡面的原因,家裡面的鄰居都會跟我爸 講,你兒子怎麼都沒有什麼進展,在演藝圈是這麼普通,我爸爸都會講,不會呀,他很厲害啊,我爸爸都會幫我解圍,爸爸也會難過,因為自己的小孩被鄰居這樣 講,媽媽也跟我講,爸爸今天心情不是很好,我第一個是為了爸爸,為了家人。第二個是為了歌迷,以前的歌迷不太敢好意思跟他們分享自己的偶像是羅志祥,覺得 很丟臉,不太願意敢提到我,所以會覺得很可憐,歌迷有時候在我表演的時候,有些演唱有很多藝人表演,有歌迷幫我尖叫,有的時候前面的歌迷不是我的歌迷,覺 得怎麼會是我,我希望我的歌迷可以很驕傲跟他們分享說我他們的偶像是羅志祥。

說到外貌,很多人說"小豬"你長得像郭富城等等,我很開心,這麼多的藝人,這麼多英俊的臉龐,放在我的臉上是不是很好看?但是我只能說一句,他們比我帥,支持他們的朋友可能會說哪像,"小豬"這麼醜怎麼會像他們?所以我還是感謝這麼多朋友的賞臉。  

媚小貓:有媒體說你的走紅"被蓋上了'台灣製造'的超級大印章",你是否也認為,自己在大陸走紅,是因為一段時間來台灣的綜藝節目在大陸風靡的原因?

羅 志祥:你要這麼說,我覺得應該要感謝"娛樂百分百"的製作人,他在我最不好的時候請我來主持節目,很看得起我,也謝謝他讓我在這個舞台有一個很好的表現空 間,讓我無限去發展,不會限制我,所以我很喜歡在這個節目裡面,說、學、逗、唱,表演給大家看。有人說小豬你可以不可以在裡面模仿一段呢?我說你要看"娛 樂百分百",他們只有在這裡面可以看到,模仿誰可以看到,其他的節目看不到,所以這是一個很珍貴的節目。

For the complete article, please visit:

[You must be registered and logged in to see this link.]


Similar topics
---
Permissions in this forum:
You
cannot
reply to topics in this forum